Global Vine to Showcase Season Premiere Nov. 12
Global Vine will return for the 2020-2021 school year with their season premiere on Thursday, Nov. 12. With a smaller staff and a global pandemic to deal with, the crew has had to change course several times when approaching how to film this year.
"Originally we were hard focused on making CSPAN documentaries, but over the course of a month we started talking about what a show would look like, especially with such a small team," senior Colten Boyles said. "We only have six people total this year, two of which are virtual. Everyone was on board with making a show despite the challenges, so we started just that. They'll be biweekly this year because of our small team and there just not being as much we can cover in general, but we still wanted to make a show because that's what we're known for."
The show this year is similarly structured to last year, according to Boyles, with a feature segment focusing on a narrative-driven story, a hype segment focusing on a sports team or club, and a satire segment focusing on humor.
"We're trying to find those interesting personal stories that students have, but it's difficult because a lot of people can't do the extracurriculars they love anymore, or a lot of those interesting people are at home or just not as apparent anymore," Boyles said. "We're doing a mini version of what we did last year, so each week a different person is director, and they oversee everything and make sure everyone is on track. Then, usually about one or two people are involved on each segment, but on more narrative-driven segments we'll have more people involved."
With a small staff spread thin due to the pandemic, Boyles says Global Vine has had to adapt not just when working together to plan, film, and edit segments, but even more unexpected details such as finding a way to share video files easier and collaborate between in-person and KVA.
"The thing about video is that it's a very personal and up close art form, so that's definitely the hardest thing this year," Boyles said. "There's a lot of questions we have to decide like, if we interview someone, do we sit far apart so they can have their mask off, or do we have them keep their mask on to keep a good image? It's also difficult to coordinate with people when exactly they are free to do video shoots, especially teachers since they're so busy with regular classes and handling KVA. Filming people is just difficult now and that's half the battle."
The first episode will cover organizations such as football, and touch on how FFA has had to continue to adapt this year to COVID-19 policies and other challenges.
"I'm looking forward to bringing a little bit of joy back into people's lives," Boyles said. "As director for the first show, I didn't want to make the first season premiere be this dark and gloomy shtick. It's supposed to be entertainment, I want people to be entertained and I'm excited to see how people see it. Hopefully with so many people at home, we can still get people to watch it and want to watch more."
About the Contributor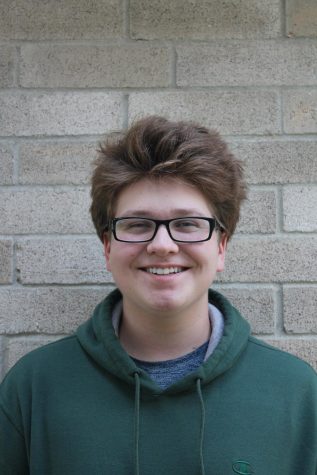 Donovan Nichols, Co-Editor In Chief
Senior Donovan Nichols is returning to the County Line for his third and final year on staff, as Co-Editor in Chief. He can't wait to make the most of...