Proud Poetry
Junior Named National Student Poet for Southwest
Junior Ethan Wang was honored as a National Student Poet for the Southwest and awarded a $5000 scholarship by the National Student Poets Program at an online ceremony on September 10.
"I remember feeling that if I was a young person, I would have loved to have a role model, like you," Brooklyn Poet Laureate Tina Chang said to Wang at the ceremony. "I recall your application so clearly. You spoke so openly and also so lovingly about your family tradition and your influences."
Wang wrote about his family tradition and influences in a poem titled "cloth ballad, leather trails", which was selected out of 20,000 poems written by 10th and 11th graders.
"I wrote about my family's history and my grandmother and mother's experience in China and the US," Wang said.
 Wang was one of 35 semi-finalists named as the most gifted young poets in their regions, based on their originality, technical skills, and personal voice, and had to submit another poem to advance to finals. 
"At the time of writing the poem, I was by the sea," Wang said. "It was night, and I was feeling kinda nostalgic. A lot of the poem is about old acquaintances and to an extent the way the ocean reminds me of the past."
The poem was titled "wave/s" and earned him the title of National Student Poet for the Southwest. In the poem, Wong used traditional forms such as rhyme, iambic pentameter and experimented with no capitalization and interrupted line, which earned him the praise of Chang.
"I love your willingness to be a maverick, to be special and extraordinary," Chang said.
Becoming a student poet is not just about the recognition; it is about taking on a new role as an ambassador. In the past, students have traveled to the White House, Kennedy Center and communities all across the US to share their love for poetry.
"Now more than ever, we look to a rising generation of creative leaders to demonstrate the power that poetry and the literary arts have to inspire, galvanize, and unite communities," Christopher Wisniewski, executive director of the Alliance for Young Artists & Writers said in a statement. "We are excited to work with these five exceptional teens to engage museums, libraries, and schools in the year ahead, and we are eager to see all that they will accomplish."
About the Writer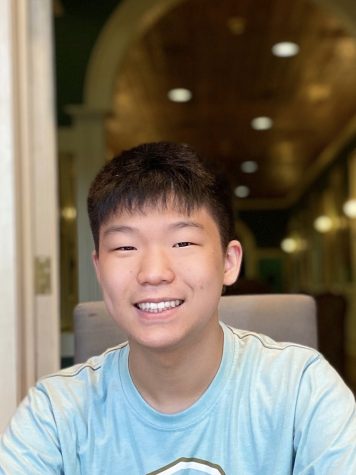 Yoonsoo (Seth) Choi, News Editor
Junior Yoonsoo Choi, who goes by Seth, is delighted to return to the County Line for his second year. He attended the School of the New York Times and...