Seniors, faculty, counselors navigate new Naviance college application software
Katy ISD secondary counselors roll out the latest phase of new college search, scholarship, rec letter software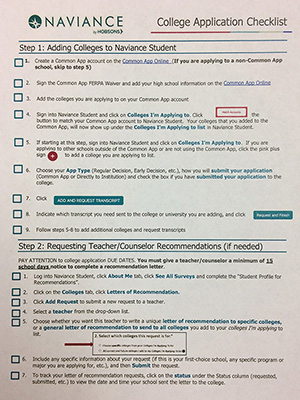 This year, Katy ISD is using the program Naviance to help students, counselors, and teachers in the hectic process of submitting college applications and recommendation letters. Counselors Robin Rolon and Kacie Osorio are spearheading the implementation of Naviance for the class of 2019.
"Naviance is a great organizational tool," Rolon said. "It can be used to make resumés, set goals, and organize the overall application process."
One of the most notable features of Naviance is the aspect dedicated to helping students find possible careers that might interest them.
"There's a whole career section of Naviance that will allow students to do career searches," Rolon said. "When students come to me and say 'I don't know what I'm interested in…I don't even know what classes to take to get going,' they can actually do one of those and see what it points them towards."
In addition to Naviance's career searches, many useful tools such as resumé builders and planners are available. One of the most unique features is the scholarship finding program.
"
"Naviance is an amazing scholarship searching tool. The more surveys you do, the more scholarships may be directed [towards you]. It also can lead you to colleges you've never thought of."
— Kacie Osorio
The career searches use surveys that students fill out to direct them to "a group of many professions" that might interest them. There are also many video interviews of people working in that field or students in college studying for that career.
"You put in all your interests and then your college preferences, and then it shows you some possible career choices and what colleges offer those," senior Simón Herz said. "It really helps you find a good college for your interests."
Besides career searching, Naviance also serves to help further streamline the application process and letters of recommendation.
"There's a place where you can see a student's resume and a personal statement, and whenever I need to I can easily communicate with them," teacher Nicole Peffley said. "It's the same Common App format, but I'm uploading it from Naviance. It's moving in this direction of being a one-stop place where the student can communicate with me and I can communicate with the student, and that's really nice."
However, Naviance currently has some flaws with some of its application help tools and organization. Naviance only supports submitting college applications if they are the Common Application, the main application used to apply to most colleges. Two other major applications, the Coalition Application and Apply Texas, the latter of which is accepted by almost all colleges and universities in Texas, are currently unsupported by Naviance.
"I use Coalition App because one of the schools I'm applying to only accepts that, so that kind of affects my usage of Naviance," senior Danny Perego said. "In my case it's more useful for asking for recommendation letters and receiving them from counselors and teachers…mainly it's lacking the ability to interface with multiple applications because not [all the colleges] use Common App. A lot [of colleges] do, but for those who do not, it's really not an efficient way to apply to places. It's not an efficient way to collect data for students who are not applying to colleges through the Common App."
Some of the biggest challenges for teachers have been the inevitable problems that come anytime you introduce new technology, according to Peffley.
"Anytime you implement any kind of new technology you have to troubleshoot it," Peffley said. "We're just trying to be patient now. Teachers have been having a hard time logging in, but that just got fixed. Navigating and learning how to use it are currently the biggest issues."
Additionally, there are some concerns about possible submission problems for something as important as applying to college.
"When I'm done writing these letters, I'd want to make sure these students check with the colleges and confirm everything submitted alright," Peffley said. "I would hate for something to go wrong on my end and not get it submitted, and then get to that deadline and only then find out."
For the past two years, Naviance has been rolled out "in stages" with the "support and direction of the district." This is the first year it is fully integrated in the school's curriculum on college applications.
"Last year we were sort of sidelined by Harvey," Rolon said. "It just wasn't the time."
Naviance replaces a prior program made and used by the district to help with college searches. However, that search program was "very limited and basic." Naviance contains many more features.
"Naviance is a one-stop-shop for college applications," Osorio said. "It does a lot more than what [the old program] used to do. The district needed more accountability and documentation as well as the ability to help support support students and families through the application process."
Many are confident that Naviance will continue to improve in the long run.It's a step in the right direction according to Peffley. The counselors know that "not everything's rosy" yet.
"We know that there are struggles this year," Osorio said. "It's a change. We have to learn how to walk before we can run."