District Implements Critical Changes to School Policy
Beginning in the 2018-19 school year, Katy ISD has implemented various changes to the school disciplinary plan and student code of conduct, in an attempt to ensure the security of students and staff.
At a board meeting on June 25, the policy was officially revised. The changes are mainly procedural, with a focus on the modifications of daily mechanics of a school day, according to associate superintendent Bonnie Holland's statement to the Community Impact newspaper.
Some of these new amends to district policies included requiring students to wear ID badges at all times during school hours, as well as keeping doors locked until a set time each morning. High school students' doors open at 6:45 a.m. Students will also be required to bring clear bags to sporting events, performances and graduations to ensure visitor safety.
"Safety is the No. 1 issue here," Superintendent Lance Hindt said. "We're going to start training kids from elementary to follow these guidelines."
To prevent high school students from taking these measures lightly, the district has attached disciplinary actions to emphasize their importance, including having to pay a fine for a new temporary badge.
"With this coming year, for secondary students, if they are not wearing their badges or do not adhere to the guidelines there could be disciplinary consequences for that," Holland said.
These changes hold merit due to their precautionary role. After recent gun violence in high schools near Katy, these measures are preventive and are meant to keep disturbances contained and suppressed.
"One incident in Santa Fe High School just last year was only an hour away from us," Principal Cross said. "We cannot be this close and do nothing."
Students have given various opinions from their own perspective as well, acknowledging the circumstances that led to this drastic transition, but highlighting their initial criticism.
"I generally didn't approve of the new rules at first because they were a hassle to follow," Senior Chris Chen said. "But I can understand why they're necessary for safety."
Ultimately, Katy ISD's overarching aim is to promote an environment free of doubt and apprehension about the future, and students realize this.
"It gives a sense of security to the student body's well-being," Freshman Angelica Sharma said. "Nothing can replace the assurance that the faculty is doing their best to protect students and staff."

Hang on for a minute...we're trying to find some more stories you might like.
About the Writer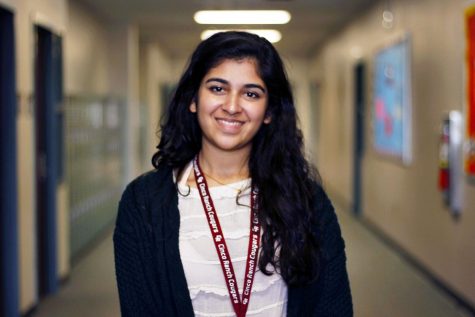 Nandika Mansingka, Editor-In-Chief
When she's not indulging in the wild ride that is college applications, Nandika's 5"1' frame dwells in room 1221 -- aka the place where the magic (and...