2018 Prom to be 'Masquerade' themed
The Senior Prom will be held on Saturday, April 14 at 7:00 p.m. at the Westin Hotel in Memorial City. The majority of the seniors voted for "Masquerade" as the theme for this year out of "La La land," "Beauty and the Beast," and "Winter Wonderland."
"I'm already looking forward to it," senior Rebecca Clark said. "Although I wish it was the 'La La Land' theme because I can't wear a mask due to my glasses, but I am excited for it."
A Masquerade means that those attending will be wearing masks, as per the theme's tradition.
"The Masquerade was a great choice," senior Juan Garcia said. "It brings in a formal and classic theme for seniors which is perfect honestly. I am looking forward to the theme, but knowing the seniors I bet most of the masks are gonna be on the floor. Beauty and Beast could've been a good theme though some people have never seen it, so a Masquerade applies to everyone."
The theme for Prom 2017 was "The Great Gatsby" and was met with praise from students and teachers alike, but a lot of seniors have high hopes for this year's prom to knock Gatsby out of the park.
"I really like it because if we chose a movie related option, we would be limited when it comes to design," senior Alyssa Watkins said. "With Masquerade there's so much more we can do with designs, and I want to have the masks and see people in their prom attire too. I think overall if they really immerse the theme into everything I think prom would be really awesome."

Hang on for a minute...we're trying to find some more stories you might like.
About the Writer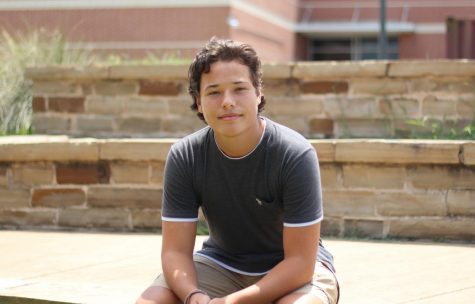 Joe Powell, Staff Writer
Hey. It's Joe. The British guy. Yeah, that one. So he's still here and he's made it to senior year, believe it or not. Don't ask him how, let's just...