CRTC to perform The Iliad, the Odyssey, and All of Greek Mythology in 99 Minutes or Less
Cinco Ranch Theatre Company (CRTC) plans on performing the comedy, The Iliad, the Odyssey, and All of Greek Mythology in 99 Minutes or less, on October 12, 13, and 14 at 7 pm in the Performing Arts Center.
"It is a spoof on the Iliad and the odyssey, and very easy to understand," senior and CRTC Officer Avery Connor said. "It's a comedy where each actor plays at least eight roles."
Each actor will portray a range of characters from well known Greek mythology.
"It is definitely a fun challenge for all of us who act in the show," Connor said. "We not only have to memorize a lot of lines, but we have to find ways to make each character unique, comedic, and memorable. There is a lot going on, especially during the portrayal of the Trojan war."
While the actor creates the stories through their characters, the crews create the props, sets and costumes backstage.
"The set design design by Kaleb Berry is awesome, and really shows off the symmetrical style that was popular in ancient Greece," Conner said. "The costumes Designed by Kaylee Bryant, are amazing and flexible for all of the characters cast plays. Each elements adds a lot to the show and makes it as visually pleasing as it is entertaining."
Both sides of the company are working together to put on a show that will dazzle the audience.
"It is our job through acting, costumes, lights and props to make it clear to the audience what is happening in the midst of chaos," Connor said.

Hang on for a minute...we're trying to find some more stories you might like.
About the Writer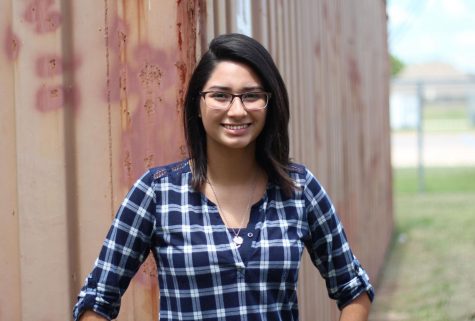 Ana Medina, News Editor
Ana Medina is a senior and is coming back to the County Line as the News Editor. When she is not stressing about school and college essays, Ana enjoys writing poetry, spending concerning amounts of time on Netflix, and being with friends. Her passions include food, writing, the oxford comma, PALS, and rants about equality and pocket sizes. Ana regularly volunteers at her church with the preschoolers and can be seen wearing the most ridiculous costumes in hopes of keeping their short attention span. She is often found with ink on her fingertips and food in her purse. All in all, Ana is excited about her last year and secretly hopes it goes by fast.