Wagner voted Teacher of the Year by staff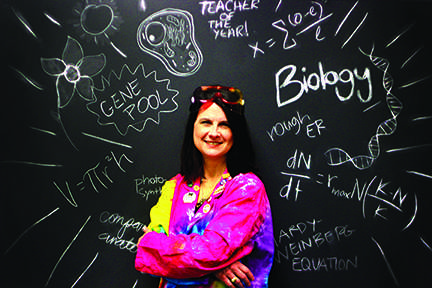 Eighteen years may seem like a long time for lesson planning, lecturing, learning, but Teacher of the Year Sherri Wagner does not see it that way.
"It's new and changing all the time," Wagner said. "I enjoy that. I always say I love coming to work because it changes but it's just fun for me also. The things that students say, they're so fun. And it's neat watching the maturing process."
Wagner was voted as Teacher of the Year by other faculty members, who voted after a list of nominees was selected.
"Being nominated and chosen as Teacher of the Year is one of the biggest compliments a teacher can be given because it is decided by their professional peers," Wagner said. "It is an amazing honor."
Before she began teaching, Wagner started out in an environmental lab after earning a Bachelor's of Science in Zoology at Texas A&M University.
"I was sick of school after I graduated, so I went ahead and I worked at an environmental lab doing water quality testing," Wagner said."I did that for four years and I was very bored, so I went back to school and got a teaching certification in science."
Wagner has been teaching science at Cinco Ranch since its opening year, and over the years, she has taught biology, chemistry and astronomy, but the diversity Wagner tries to work into teaching is not limited to class subjects. Wagner sees herself as an active teacher, re-evaluating and reviewing her own work after each lesson.
"When I teach something in class, I'll make notes to myself: 'ooh, this did not work, I'm not teaching it this way again'; or 'the kids really liked this and seemed to learn well from it – keeping this one,'" Wagner said. "So most of the time, it's the same content, but it's how it's presented that changes. I'm very self-reflective and critical of myself."
Wagner's love for science and desire to teach high school students stems from an advanced biology teacher she had during high school.
"He was very passionate about science, and that came through with everything he did," Wagner said. "That was exciting. Everybody wanted him as a teacher because he was so good. That was one of the things that sparked my interest in looking at teaching initially – him. I thought that was really neat."
It is clear that her own passion for science has shown through to Wagner's AP Biology students. "Mrs. Wagner is one of those teachers who really values questions," senior Katie Jones said. "I never feel uncomfortable asking an out-of-the-box question in her class and that really helps me learn. I think she's just very open minded and super interested in her subject and that's a great combination."
Another part of teaching Wagner loves is watching her students evolve and mature through the years. Earlier in her career, she taught both sophomore chemistry and AP Biology, a junior and senior level class.
"Sometimes I would see the same kids two different years, when they were still kind of maturing and then when they were older," Wagner said. "It was always neat to see that, to see how they've matured and changed. I guess it makes me think back to my own high school years."
Still the most rewarding part of Wagner's career is teaching itself.
"Seeing that kid that's been struggling, just seeing that light turn on and knowing that you helped them is one of the most rewarding things," Wagner said. "And knowing that they get excited about it – like yes, I got it. I hope that that's how all students feel in any class, but in my class too. Like, wow, that was rough, but I made it, and I got it, and now I'm prepared to go and do awesome things when I go off to college. And they will. They'll do awesome things."