Breaking News: Senior Graduates High School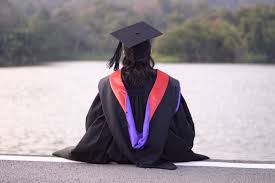 It is with very mixed feelings that I, Bea Lunardini, announce my official resignation from the County Line newspaper, otherwise known as my graduation. I have only had the pleasure of writing for the County Line for one year, but in that time, I have experienced some of the greatest times of my high school career. Not to boast, but the articles I've published have been read by tens of people worldwide, even if 80% of those reads are my mom. I owe a great deal of my success to my teacher, Ms. Latham. The lessons that I have learned from her, both about newspaper writing and life itself, will stay with me forever, or at least for a few days after graduation. She also makes some of the best banana pudding I have ever had in my life. 
In addition, I want to take this time to thank my fellow staff writers this past year. My writing has been permanently improved by the skills that they have taught me. I have also learned that it usually sounds much more flattering to describe yourself as "having a deep-rooted journalistic instinct" than "extremely nosy and big on eavesdropping". Good to know for the future. Ultimately, without the editing that I got from them, I never would have been able to qualify for the state meet with the Headline Queen herself, Nicha Bruce. We had a great time in Austin and showed out for the school, even if we did not return with shiny necklaces. 
My departure from the County Line is not the end of the line for me, though, as I will be pursuing journalism. Whether you want to or not, you'll be seeing my name on bylines until the day I drop dead. Until then, my words to the County Line newspaper are "see you later", not "goodbye". 
Signing out, 
Bea Lunardini