Ethan Onianwa
"My parents actually didn't want me to play football at all," senior Ethan Onianwa said. "We had just moved here from Nigeria when I was 6 years old, and my mom said 'You're never going to play football ever at all.'  Because I was already so big, I would go to the grocery store with my mom and people would ask me to come play for their PB football team, but my mom always turned it down. One day, one coach came directly to me and gave me his card, so this time my mom couldn't shoo him off. I pestered her about playing; finally she let me play, and that's where it started."
Years later, Onianwa has continued his football dream. After playing throughout junior high and high school, he will continue playing football at Rice University this fall on a full ride scholarship.
"I've been wanting to go to Rice for a while, and the verbal offer to actually play for them and get a great education was incredibly exciting," Onianwa said. "I was ecstatic. I'm excited to play football, but I'm also excited for Rice. I'm looking forward to meeting new people and new professors to show me new experiences. There's only so much I can experience here in Katy, compared to going to Houston, meeting a large plethora of people that come from different places, different states, different countries, all coming together and intermingling."
Onianwa, who plays offensive tackle, had already been introduced to the Rice team by attending some of their practices and camps over the past several years. He accepted the offer near the end of his junior year.
"Being able to play for coaches I've known for a few years now is really exciting," Onianwa said. "I got their phone numbers so I could meet and talk with the coaches on an individual level. I also got to take a football tour of campus to see their training facility, their field, and how they practice."
Onianwa said that while at first, he only viewed football as an after school activity, as he played more, he "fell in love with the game" and wanted to pursue it further.
"There's an art to the game," Onianwa said. "It's not just about hitting people. You have to develop your own technique and look at other people as well. It's not just about how strong and fast you are, but how well you can adapt to the game, and how willing you are to push your limits and get better. Having amazing coaches through junior high and high school helped me realize that I wanted to take this as far as it can go. There are a lot of great people here at Cinco. Without them I wouldn't even be considering going to a school like Rice."
In addition to football, Onianwa hopes to study medicine and become an orthopedic surgeon.
"Talent can only get you so far," Onianwa said. "If you don't have a good work ethic you won't get far at all. That was challenging for me freshman year. I didn't have to study a lot in junior high and I was always the biggest guy, so my work ethic wasn't amazing. I had to work hard to hone my skills athletically and academically so I could continue to make progress. High school isn't forever; those four years may seem like a lot but they go by really fast. Even as a freshman you should continue to  work hard to set yourself up to be the best person possible."
About the Writer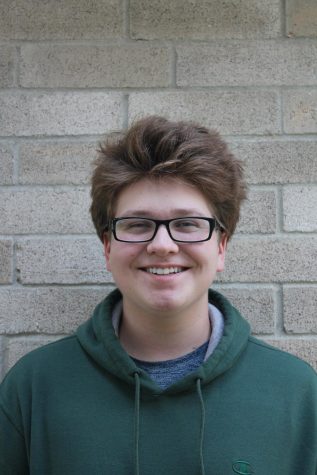 Donovan Nichols, Co-Editor In Chief
Senior Donovan Nichols is returning to the County Line for his third and final year on staff, as Co-Editor in Chief. He can't wait to make the most of...