Movie Magic
Senior Takes Gold at the UIL Filmmakers Contest
The six members of the Global Vine staff sit with their teacher, Mike Marrie, their parents and friends in the Alamo movie theater as films are screened. Finally, they see Decaf, a short film directed by senior Colten Boyles, the anchor for Global Vine. A hilarious satire about a detective searching for the man who made him spill his coffee. Then, the unexpected happens, Boyles' face is shown on the screen with the subtitle, gold medal. 
Boyles placed first at the UIL 6A filmmakers contest. Normally, the UIL finalists' films would be screened at a theater in Austin before the awards ceremony, but this year the ceremony was canceled. So Marrie decided to rent the Alamo to celebrate Boyles' achievement. 
"Mr. Marrie and Mr. Cross must have known at least a couple of days beforehand, cause they got that medal shipped to them. But they did a very good job of hiding it from me," Boyles said. "Actually, seeing my stupid face plastered on the big screen was surreal."
Boyles' success at UIL was a long time in the making. He started by taking the digital animation class his freshman year.
"I wanted to get started in animation, because it's a career that I'm still interested in pursuing," Boyles said. "I use my iPad for a lot of digital artwork and stuff. So I just took it as a class because I thought this will be interesting, but my focus has kind of shifted over the years towards film. Even though sophomore year I took the advanced digital art class, there weren't any more classes after that."
As a result, Boyles joined Global Vine where he made many friends, who would later help him with Decaf: Steven Huffman, Carlos Pena, Diego Enrico and Ethan Boyd.
"They've definitely inspired me to make something great. And it's always fun working with them," Boyles said.
He was also inspired by Marrie, whom he described as "uplifting and inspiring" and said his wish was to make him proud. Marrie says he did. 
"For a student to produce a film of this caliber demands a steady commitment, a professional level of creativity, and a willingness to work collaboratively with others for a final product," Marrie said.  "The most attractive feature of Colten's film is that it keeps the audience engaged and intrigued by providing what all superior films do: building appealing characters and telling a great story. This is a well-deserved state championship for the CRHS family." 
About the Writer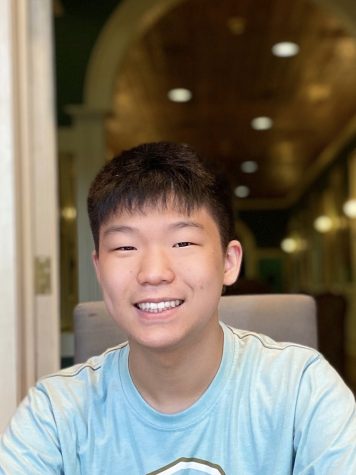 Yoonsoo (Seth) Choi, News Editor
Junior Yoonsoo Choi, who goes by Seth, is delighted to return to the County Line for his second year. He attended the School of the New York Times and...