Passion Project Into Successful Business
Student Entrepreneur uses passion and interest to grow a business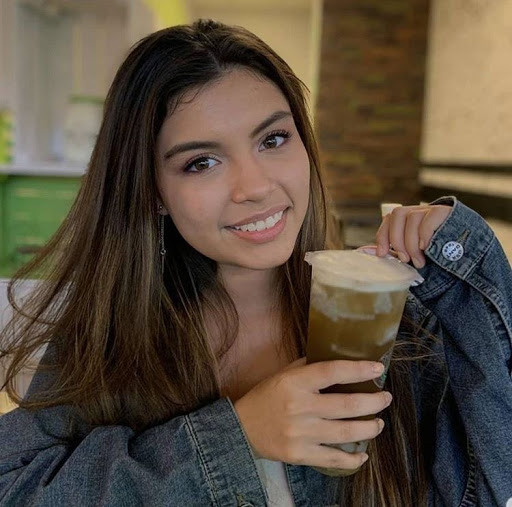 A business owner, an entrepreneur, a student, and a senior are only a fraction of the words to describe Katya Pineda. Pineda started her business, Coffee Mangos, last year in January of 2019. Her current Instagram handle for her business, coffeeemangos.co, has a total of 11,400 followers.
"Originally I just had an Instagram to post my art," Pineda said. "There are other Instagram accounts that would post art. So I just thought, wow, that seems great. I was inspired by other people and thought I could do it myself. So I did and that is how I made my startup although it took a while." 
Pineda uses social media like Instagram, Youtube, and Twitter to promote her business. She also created her own website called coffeemangos.bigcartel.com.
"I sell items like more pins as well as other merch," said Pineda "My first products were enamel pins. So back when I didn't have much of a following, I used art to gain a bigger audience, or else it's kind of hard to get people to buy your stuff when no one's following you. so I posted artwork, and I would hope people would be interested in buying my piece of artwork as a piece of merch. And I just kept posting our work until it got enough people engaged and until I got enough followers that would want to buy my design. Once there are enough people, I would pre-order it to get it made. It was not a quick process. I had to post continuously until people liked my product since I didn't have the funds to just make stuff on a whim."
Before Pineda started her successful business, she was a blogger. She has a blog on Instagram called coffeemangos which she used as the base for her small business. Her blog consists of posts about bullet journaling, her daily life, and k-pop memorabilia. Through her blog and love for K-pop, she gained inspiration to create art surrounding K-pop bands like BTS.
"I always try to make art that I liked." Pineda said  "And what I like in anime and K-pop, and luckily, a lot of other people like anime and K-pop too. So it's not that hard finding other people that like the same, but because that's like my hobby. I make art for that, and people also enjoy what I make." 
Her current best selling product is a bucket hat that has a rainbow design. She made a pair of earrings that matches with the bucket hat. Both have the words "HOPE" written on the design. The "HOPE" design was inspired by one of the BTS members, rapper J-Hope. 
"So a lot of it's like subtle [BTS themes]. So even if you don't like BTS or know what BTS is, you can still enjoy the products," said Pineda.  "They're just earrings. They're just bucket hats. Some products are more specific to BTS. If you see it, there's only one thing it can be, and it's obvious it's BTS, but I also tried to make products that are just aesthetically pleasing and fashionable. Some of them are inspired by BTS members and their fashion, some maybe their albums or songs. It's inspired by that so if you're a fan, you can if you look at it, you will understand the reference. But also, if you're not a fan, you can just look at the product and still find it cute to wear." 
The process of selling the product starts with the design. Then, the design is posted on social media, through her Instagram and website, and her customers will pre-order the product. Once Pineda gains enough preorders she can then buy in bulk from a manufacturing company that can create her design; her products will then be shipped to her and she will then manually package and ship her products to her customers. 
"K-pop has become a big influence on the US, in the US K-pop fans usually come together through cup sleeve events and they usually take place in cafes," said Pineda. "And basically, you buy a drink and the event organizers, they give you free prints or cup sleeves in return for the drink. At these events, they come forward, like in celebration of either the anniversary of a group or a birthday [K-pop groups] or just an event just to have like a themed cafe. Themed cafes are when you go in and everything's decorated, pretty and people like going to themed cafes. Sometimes they'll have vendors there. They'll let artists come to sell their work. That is where I go. I already know most of the event organizers in Houston. So they invite me around, or I'll ask to go. I just go there and sell my stuff. People like to buy K-pop things that are K-pop related."
Outside of Pineda's business, she is still a student. Pineda has to balance her time between school work, college applications, and online business and her part-time job at a boba shop. 
"I genuinely think that you need to start off with something you're passionate about," said Pineda. "And if it makes you money, that is a bonus. I really think it's important to get something you're passionate about and do something you enjoy. Or else the low parts in your business aren't going to be worth it."