Local mask company provides masks for many
MasksForKaty, comes up with new solutions in a trying time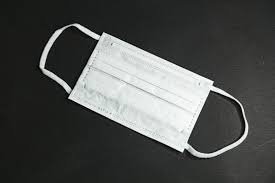 As school slowly transitions more into face to face instruction, more activities arise and people find themselves needing to leave the house more and more. Many have struggled finding masks that are nice quality, can go with multiple outfits and are good for the environment. One local mask company, MasksForKaty, has the solution to this problem.
"At first, it started with a sense of being worried," said Marcela Centron, owner of MasksForKaty. "We saw that there were not many masks in stores and all of this information about the pandemic started coming out and it left us with a sense of uncertainty. I couldn't watch all of this happen and do nothing, and making masks was the least I could do to help my community."
Since then, their mask company has taken off. They've received orders from people all the way in Oklahoma, Chicago, and even Spain. Many students, teachers, and parents of Cinco have ordered masks. Each mask is handmade, according to the design and fit the customer wants. 
"It is a change to have to wear a mask nowadays, so I wanted to make the transition as smooth as possible," Centron said. "I decided to make masks that were comfortable and breathable so people in the community who wore my masks could feel good wearing them. Whenever I see someone wearing one of my masks it gives me comfort that I am doing something for the safety of my community, and that is the greatest profit for me." 
During the pandemic there has been much controversy over wearing a mask. Some people say it feels too restricting while others say it's ugly. However, in most stores, schools and public places it is now a necessity to wear a mask. 
"Although masks are annoying and make you sweaty, they are necessary to wear," junior Claire Shenoi said. "Coronavirus particles are transmittable through air, and if you are not wearing a mask, you could get it yourself, or worse transmit it to someone else. If you don't want to wear a mask, stay at home. It's better not to risk it than to get someone sick. To accessorize my mask, I usually put on some mascara and a pair of cute earrings. I think it's important to accessorize if you can't see half of your face."  
For most, wearing masks is now part of a daily routine. This has brought awareness to the negative environmental impacts disposable masks can have. Millions are disposing of their masks right now, and filling up landfills. The straps of disposable masks can also choke, or get stuck on animals. This can be dangerous, and has a negative impact both on humans and wildlife. 
"I also started making hand made masks because I saw that it was a more eco friendly option because you can wash them and reuse them," Centron said. "It was one of the first things that came to mind when I started making masks. I saw how masks were being thrown out and I wanted to help by making reusable masks. In a situation like this, where you have water up to your neck, the only thing you can do is swim."  
For more information, or to order a mask visit: @masksforkaty on Instagram