Ronan McQuillan
Senior To Continue Gymnastics At Naval Academy
"I've been doing gymnastics since I was six; it's a big part of me. I've made lifelong friends in the gym."
Senior Ronan McQuillan will be attending the United States Naval Academy in Annapolis, Maryland, this fall, where he will continue his career in gymnastics.
"My initial interest was the history of it," McQuillan said. "Being a part of this elite group really drew me in, and they have state of the art academic and professional training."
Gymnastics has been a part of McQuillan's life for 10 years; he took a two year break his freshman and sophomore years. His scholarship to the naval academy will pay for his academic and athletic career.
"When my parents first got me into gymnastics I really tried to stand out," McQuillan said. "I'm more of a competitive person so that's where I took my lead."
Applying for a service academy is an involved process; McQuillan said he started his application the summer before senior year and completed it at the start of the second semester. The application is broken into several parts and includes a physical fitness test and requires a nomination from a public official, either a congressman, senator, or even the Vice President or President. He got his nomination from Senator John Cornyn.
"When you get into high school, gymnastics becomes more serious," McQuillan said. "Usually junior year, the coaches in college will come to see you compete and see your abilities. Gymnasts will usually announce a commitment to what college they are looking to go to, and then senior year you usually finalize that deal. You talk more over email or phone with coaches, and sometimes you get an official trip, where they'll pay for your flight and you get to come see the campus and their gym."
McQuillan will start at the Naval Academy while many seniors will still be enjoying the bulk of their summer; basic training begins June 25.
"I'm looking forward to a new beginning," McQuillan said. "I'm looking forward to the opportunity to go somewhere and become a better leader. After you leave the Naval Academy, they give you a job to become an officer and different places to go; I'm hoping I can go to Hawaii or San Diego, somewhere with a beach."
McQuillan said his advice to underclassmen would be to stay focused and keep your end goal in mind.
"Just persevering through all the years was difficult; it was a long process, going through gymnastics and having to keep my grades up," McQuillan said. "You have to always have that image in your mind of where you want to be, and then you push and strive to get there."
About the Writer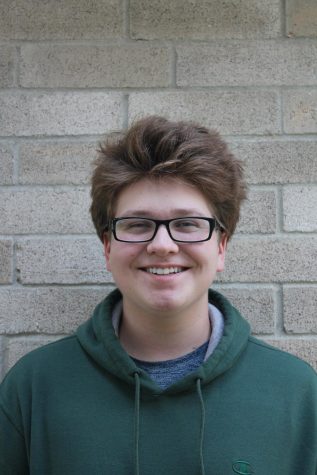 Donovan Nichols, Co-Editor In Chief
Senior Donovan Nichols is returning to the County Line for his third and final year on staff, as Co-Editor in Chief. He can't wait to make the most of...