Sammi Levine
Senior to pursue art dreams
Senior Sammi Levine has always known she loved art, ever since her first painting class in junior high. So, when the time came to choose a career, it was only a matter of where to start. From the East coast schools to universities across the Atlantic, Levine explored them all.
"I applied to about 12 schools including NYU and Marist's Florence Italy campus," Levine said. "But I'll be attending the University of Delaware."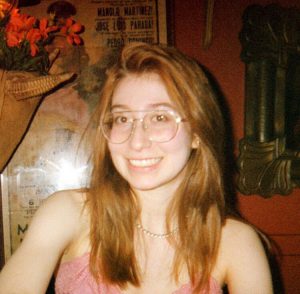 Levine plans to combine her passion for history and her artistic talent by double majoring at Delaware and going into the field of art conservation. Art conservators restore, preserve and analyze artifacts and works of art. A career in art conservation requires knowledge of both art and science and typically specializes in a particular type of object or material, such as paintings, books, sculptures, or textiles.
"Sammi is intelligent, talented and committed," Cinco art teacher Patricia Kuhn said."She is a thinker and observer. It's clear that she has an intelligent, creative mind and she's not afraid to be wrong or 'not know'. That's one of the best things about her and why I think her work is so interesting. She remains committed to herself and grounded in her values, all of which were instilled in her by her parents, I have no doubt."
Levine will be attending school in Newark this fall as part of the UD Honors Program, where she'll double major in Art Conservation and Art History.
"My dream job would be to work as an Art Conservator/Restorer at the Louvre museum in Paris," Levine said. "I'm so excited to go to college, since I've already met a lot of people in my honors program including my roommate. I'm honestly not nervous at all."
Although Levine plans to study art, she also enjoys creating it. Levine has worked hard developing her portfolio over the years through several fine art classes. She specializes in oil painting and realism pieces.
"Her work is beautiful partially because her technique and craftsmanship are exceptional," Kuhn said. "She never takes herself too seriously either, which is an immeasurably important trait in an artist. It allows her to find humor, admit defeat, try again tomorrow and just be a great witness to all of humanity. If art is reflective of all things living then she is in the perfect place to witness it all and capture it visually."
As Levine leaves for Newark, she has some advice for Cinco students and incoming seniors.
"Saying high school was difficult is an understatement for me," Levine said. "However the friends and experiences I've made are worth the struggle. I advise future seniors to not give in to the 'senioritis' mindset, and to stay focused and driven til' the very end- but also to focus on enjoying life outside of schoolwork, as it is the most memorable part of high school."