Leaving a New Legacy
Former Cinco defensive coach to succeed Clayton in 2019
"Special."
That's the one-word Chris Dudley would use to describe his years coaching football at Cinco.
Dudley spent the 2018 season as assistant head coach and defensive coordinator at Taylor High School after 16 successful seasons as a defensive assistant coach at Cinco Ranch from 2003-2018. He'll be returning next season as the head football coach and campus athletic coordinator.
"I hated to leave here last year" Dudley said. "But at the same time, it was a good opportunity for me. The chance to get out and see another school and to have that experience is valuable. In many ways it made me appreciate Cinco more, and that's not a dock against Taylor. But if you step away from a situation, things you missed before standout sometimes. There's some great things at Taylor that Coach Simmons is doing well. Their culture is in the right place and both schools are headed in the right direction."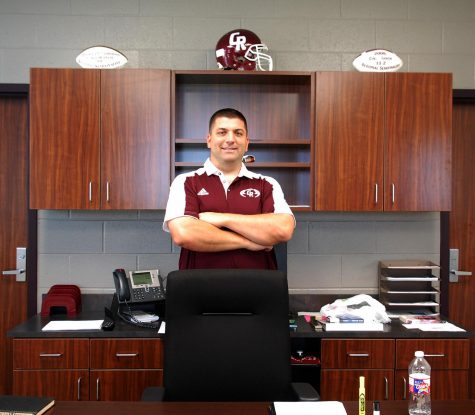 Dudley will be replacing former head football coach, Don Clayton, who after a 119-63 overall game record, announced his retirement this last April. Dudley has nothing but appreciation for his one-time coaching partner and the legacy he'll be continuing.
"Cinco, in terms of football and other sports, stands out for its tradition," Dudley said. "There's a long-standing tradition here. Coach Clayton built a great program over a 20-year period and it wasn't easy to do. I'm proud to have helped create the culture and winning traditions that go here. I love it because our kids work so hard. The Cinco Ranch athlete is one that's unique. You have kids that are hard-working, you have kids that are dependable, you have kids that are coachable. Those traits that you need to have to win. We're very good, we've won a lot of games. Our kids believe in the system, in our coaches, and that's why we've been successful."
Last year marked the first time in 10 years that the Cinco varsity team didn't play at the 6A State Playoffs. With Dudley back once again, the team hopes to not only make it, but win.
"When we talked to the kids on my first day," Dudley said. 'We brought up the 2017 team. While they did make the playoffs, they had a losing record, they were 5-6. Last year it was 3-7. So those are two examples of years that are not very characteristic of Cinco. What I try to make these players realize is, you can be beat by Seven [Lakes High School] last year, but you're not taking those plays and those results with you. That season is over with. You've been working hard since the start of offseason to develop this year's team. We have goals to get into the playoffs, to win a district championship, to playing in December, of winning a 6A State Championship. We have the resources, we have the coaches, and we have the kids to get that done."
Dudley's goals are beyond just the scoreboard; he also hopes to resume those relationships with his players that had to be put on hold last year. To Dudley, the athlete-coach bond is crucial to any team's success and he hopes all to teach all incoming athletes what it means to "be a part of something real."
"What I want most to get out of this season is the relationships," Dudley said. "I look forward to coming back to Cinco and building those relationships with the kids. It's one thing to try and build up your program, but I think that's kind of the wrong philosophy. I think you want to try to build up your kids and in turn you're going to have a good program. I look forward to giving the kids what they need to be successful. That's what we do as coaches. We try to push those buttons, get the kids to buy into our system, and be great teammates to one another."
Meaningful relationships with his players are clearly important to Dudley. His unique coaching philosophy as earned him the nickname of "Kid Magnet" from KatyISD athletic director Debbie Decker. For nearly two decades as a defensive coach, Dudley rarely saw linebackers quit.
"I'm a guy that if I have 10 players in a group, I'm going to treat every one of them the same," Dudley said of the nickname. "I don't care if he's an all-American or if he's the smallest of the bunch. The kids that I come in contact with know that I value every one of them and I'm going to coach every one of them. I've always been proud of that. If kids see that you're doing the same for them as you are for the best kid, they're going to play harder for you. That's how you built those relationships."
Dudley led a successful season with the Mustang's varsity team, allowing just 18.3 points per game last season, ninth-best among the 64 teams who qualified for the playoffs. Dudley is looking to continue that record of winning back at Cinco.
"At the high school level, I think it's very shallow just to say it's about wins and losses," Dudley said. "Of course, we're all competitors as coaches, our kids are competitive, and we want to win games. We've done that for a long time. But a perfect season to me is what did you do with that team from the first day of offseason to the last game of that season. Next year's teams are going get a Cougar football team that's playing with a chip on their shoulder. They've got a bad taste in their mouth that they're looking to get rid of and they've got a lot of people doubting them. But that's when teams are the most dangerous."
With Clayton retiring, Dudley is looking to the legacy he hopes he'll leave behind at Cinco and beyond.
"I hope when I retire that people look back on my career and they remember a man that was genuine with them," Dudley said. "It was not just about x's and o's, wins or losses, that I cared for them as a human being. I hope that they remember that I want those relationships to continue even after they're done in high school, and that I pushed them past their limits mentally, pushed them physically. That they can look back at their experience as an athlete here and realize that it helped them later in life. It helped them become a better husband, a better father, it helped them get a job. Leaving a legacy like that is any coaches dream."