Featuring Alumni…Beds, Bodies, Bayous and Bylines
Cinco Ranch alum tackles variety of journalism assignments as Houston Chronicle intern
Saturday. She watches as children smile with glee as the Sleep in Heavenly Peace charity delivers their new beds, a big step up from the floor. Monday is murder- literally. She takes notes as two criminal members of the Southwest Cholos street gang finally face the long arm of the law. Thursday. She is at the scene of a body in the bayou, found by a cleanup crew clearing storm debris. Next Saturday. She dodges Daleks and dinosaurs, superheroes and street vendors at the Fandemic Comic Convention. This is not just a random hodgepodge of Houston's happenings; no, this was Metro Intern Emily Burleson's recent schedule covering stories for the Houston Chronicle.
Burleson, in her senior year of college at the University of Houston, is currently a Metro Intern at the Houston Chronicle, where she covers both features and breaking news. Despite her past experience with news writing, she has found herself writing stories unlike anything in her past. Stories of crimes, traffic accidents, and even dead bodies are now handily under her belt.
"They've sent me to cover a lot of crime scenes," Burleson said. "Just recently I reported on a body found in the bayou. They said 'Hey, there's a body, go write about it.' I showed up and right there is a body bag. I interviewed some police and crew members who found it while they were clearing debris."
In stark contrast to some of Burleson's more recent assignments, she has been assigned to comic conventions, cultural festivals, and charity events. Despite some of the more grotesque stories, the variety of topics makes it worth it.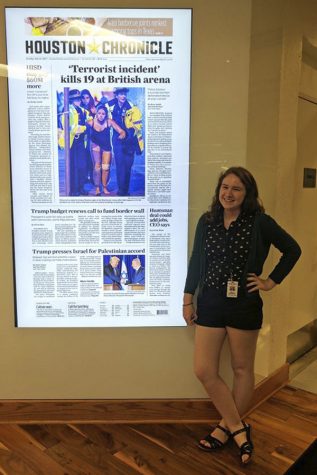 "I also get to write a lot of really cute weekend stories," Burleson said. "For example, recently I covered this nonprofit that builds bunk beds for kids who are sleeping on the floor, and that was a really fun story to write. It was really heartwarming, because it was so sweet and just the purest possible story. Overall it's a nice spectrum of experiences, really cute fun stuff on the weekend and murder charges and dead bodies and fire during the week."
Burleson is now deeply rooted in her love for journalism. It would be difficult to imagine what her life would be like without the wealth of experiences journalism has given her. However, she was not always interested in journalism. Her life changed in the fall of 2011, completely by chance.
"It was an accident," Burleson said. "I signed up for the journalism class because I heard it was how you got into yearbook. I really wanted to do yearbook that year. I took the class and I found that I was pretty good at writing, and I liked it more than the layout aspect. Still, every year after that, I was always torn between newspaper and yearbook. I would always choose at the last possible minute."
After discovering her affinity for writing, Burleson joined the County Line Newspaper Staff her sophomore year. For the next, three years, she remained on staff, eventually becoming Co-Editor-in-Chief.
"I think that sophomore year at the County Line was really a good impression on me," Burleson said. "I learned a lot about writing and deadlines, and everyone was so nice."
After three years on the County Line and graduating from CRHS, Burleson enrolled at the University of Houston, after being offered amazing scholarships that she just said she couldn't refuse. While she pursued a major in journalism, Burleson refused to become involved with the student paper- initially.
"Both my mom and boyfriend told me, 'Newspaper was way too stressful in high school, you shouldn't do that in college,'" Burleson said. "I agreed with them; I said to myself, 'Yeah, I need a breather.' After three days, I was incredibly bored, so I applied for the Daily Cougar. One of my biggest inspirations for that was when I picked up the weekly print and I began to see all these errors. I thought to myself, 'If I can find these errors, then I can definitely correct them.'"
After joining, Burleson quickly began to rise in the ranks. Just five months after joining, she became the Copy Desk Chief. Soon after, she became News Editor, and later Web Editor. Burleson was impressed by the similarities between high school and college publications.
"My first day on the Daily Cougar, I walked and I said 'This is just like 1221 [the County Line's school room number],'" Burleson said. "While college writing is stricter and the stories are a bit similar in scope, there is a lot that is similar."
Her junior year of college, just under 2 years after joining, Burleson became the Editor in Chief. That year, she and the rest of the staff on the Daily Cougar faced an immense challenge less than a week after semester started- Hurricane Harvey.
"Harvey was really difficult. We had staff members scattered all over the state," Burleson said. "Someone was in Austin and wrote about the football team practicing there. We got personal essays from people about what it's like to evacuate. When we came back the first day school was open, we only had one day to throw everything together. We ended up having about 25 articles about Harvey. I'm really proud of that issue- it made us finalists for the National Scholastic Press College Pacemaker Award."
Despite Burleson's love for journalism, it has made her life much tougher. Being involved in any publication requires time and dedication. According to Burleson, being Editor-in-Chief for the Daily Cougar made her junior year the hardest year of her life. While it was very rewarding, she wanted to quit every week. Despite the intensity and stress, Burleson is firmly committed to journalism, and remains as enthralled with it to this day as she once was so many years ago.
"I still love journalism because I get to learn all sorts of new things every day," Burleson said. "Really, I love getting to talk to people and hear their stories."
This is the first in a series of articles about Cinco Ranch alumni and where they are now.