Senior wins READYKaty logo contest
When senior Ashley Coleman heard that her artwork had won a contest, her initial reaction was confusion.
"I made my logo so long ago, I thought that maybe someone else won," Coleman said. "So to hear months later that my logo was chosen, I was caught completely off guard."
Coleman entered a design for consideration as the logo for the READYKaty, a citywide campaign to raise awareness and provide information before, during and after a natural disaster. She used her artistic knowledge to incorporate the campaign's principles into the design while making it visually appealing.
"I wanted to have two important messages, which are being prepared and staying safe," Coleman said. "I began with doing research for my logo. I learned that you don't always need a symbol for a logo, but text makes a good logo."
Coleman and her classmates were recognized by Mayor Chuck Brawner and Chief Russell Wilson of the Katy Fire Department on March 20th for their work.
"I feel honored," Coleman said. "It's really awesome being acknowledged by someone popular who admires your work."
Coleman's teachers and peers cheered her on when they learned of her accomplishment, which did not go unrecognized by the student.
"Everyone was so supportive and I recieved hugs from my friends and my teacher," Coleman said.
This event, however, is not the first time Coleman has been recognized for her artwork. She received another award for her work in 2016.
"Back in my sophomore year I had a coffee painting of a cow that I entered in the Houston livestock show and rodeo art contest," Coleman said. "I got the reserve class champion for mixed medium. The painting was the ninth lot in the art auction and it sold for $60,000."

Hang on for a minute...we're trying to find some more stories you might like.
About the Writer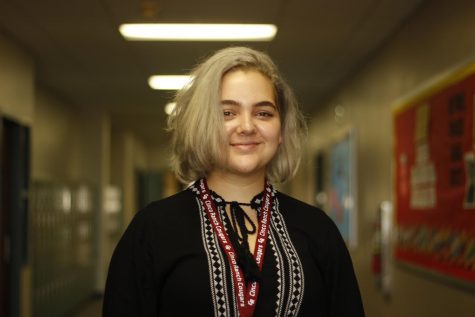 Claire Haigwood, Staff Writer
The 2018-2019 school year is senior Claire Haigwood's second year on the County Line staff, after joining during the second semester of her junior year....