District introduces 'Naviance' to help students prepare for college and career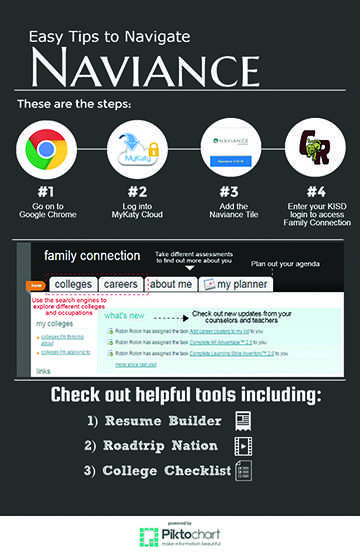 Hang on for a minute...we're trying to find some more stories you might like.
What do you plan to study in college?
It's a simple question. Straightforward. A conversation starter amongst young adults.
However, an increasing number of high school students find themselves stumped. While some have already settled on their post-graduation plans, others struggle to make the decision that has the potential to govern the rest of their lives. But with the introduction of the Naviance program this fall, the district hopes to ease the stress of college applicants.
Available to students since Nov. 1, Naviance is a comprehensive college and career readiness program that comprises of a multitude of resources to help students figure out what they want to pursue in the future.
"There's a lot of flexibility with what students can do to get themselves on a path towards a future, whether it's looking for a school or a career," counselor Robin Rolon said. "There's a big search engine with all the schools you can imagine – technical schools, colleges, and universities in all the states and from countries around the world. The data it has access to is amazing and a lot more detailed than what you can get from the school's website with tuition and scholarships available and those sorts of things."
To start off the planning process, students may take different assessments that analyze their individual strengths and learning styles to help set them on a course towards choosing a career in a particular area of interest.
"Assessments sound like tests, but it's not a test for a grade but more like an inventory or a survey about the student so they can get to know themselves better," Rolon said. "It gives the student a lot of adaptability to plan their future."
Naviance also includes a feature called Roadtrip Nation, an archive of thousands of videos detailing the journey of professionals and how they established themselves in their respective fields of study.
"We think it will be really interesting for students because it's a real person telling about their story as opposed to parents or one of us saying 'here's what that career is like'," Rolon said. "Roadtrip Nation is very powerful."
However, Roadtrip Nation is not only limited to career oriented videos but is also grouped into topics related to managing time and stress.
"The Roadtrip Nation is run by high school and college students and is very relatable," counselor Kacie Osorio said. "It can go with careers or emotions."
The benefits of Naviance extend beyond the students; it will also help staff members and administrators establish a deeper understanding of the student to cater more to their needs.
"All that data from the assessments is available to the counselors, teachers, and assistant principals so it helps all of us to get to know the students in a better way than we have the opportunity with over 3,300 students," Rolon said. "The data for us as counselors and administrators is invaluable to see where our students are going and the type of path they're taking. With that, maybe we can learn more about how we can help them better."
Starting next year, all of the features of Naviance will be available to students so incoming seniors will also be able to use it for their college applications.
"What we don't have that we'll have next year is the piece where they can actually apply to schools through Naviance," Rolon said. "It takes them to their application but the process is all through Naviance so if they need a recommendation letter from a teacher or counselor, it can all be done through this program."
With the implementation of Naviance, the district and counselors hope that students will be able to utilize this tool to achieve success in high school and beyond.
"The point of this program is to take your time and look since you have time to figure out what you want to do," Rolon said. "Students don't have to know what their ultimate goal is right now. They just need to get pointed in a path where they feel comfortable and who knows where that will take them later. We all take twists and turns along the way, and that's ok. As long as we ultimately get where we're happy."