Constant creativity
Seniors pursue artistic passions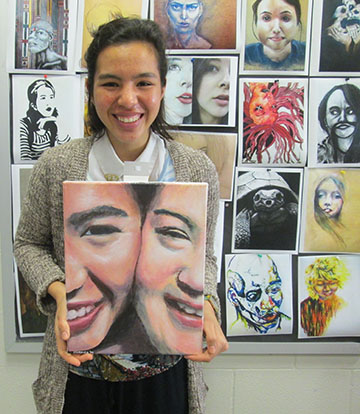 Brush in hand. Apron on. Pallet filled with vivacious colors. As the students begin to paint, all seems right in the world.
This is their place. This is their zone. This is what they do. It is their art.
Isabella Phillips and Yeonsoo Koo are seniors in AP Studio Art who enjoy expressing themselves through drawing, painting and other mediums. Having created art since they were little, their talent is something that brings them peace.
"I feel like art is just the thing that I am best at," Phillips said. "I've never been naturally good at something other than drawing and painting."
Both Phillips' and Koo's artistic passions have stemmed from early on in their lives. As they have been growing and maturing, their love for producing art has remained static.
"I've always been drawing," Phillips said. "In kindergarten, during recess, there would be stations, and I would go to the art table. Everyone else would be playing like house or something, but I would always rather paint than do that stuff."
Their time spent at the school has let them improve their craft and advance their skill set. Art teacher, Cindy Reilly, encourages them to view things with a new perspective and gain confidence in themselves.
"I've always been drawing, but I wasn't very good at being realistic," Koo said. "I always kind of felt bad about myself. When I came here, I met Mrs. Reilly and she's just so awesome, she brings the best out of everybody. I started feeling better about what I can do rather than feeling bad about what I can't do. The program here taught me that art doesn't have to be realistic; it can be abstract."
Art is unquestionably in the future for both of these students. Phillips has been accepted into Savannah College of Art and Design but may be going to VCU in Qatar to study graphic or illustrative design, something she has always been passionate about.
"I probably want to major in either graphic design or illustrative design because it's very free with what you can do," Phillips said. "Some of the stuff that I see is storybooks that you can design for or do advertisements, and ever since I was little I would do stuff like that. I would make comics and books."
According to Koo, art will always be a part of her life because it is a way for her to express her inner most feelings. After graduating, Koo plans to gain a liberal arts education at St. John's College in Santa Fe. There, the students typically study in discussion based classes and read texts ranging from Aristotle to Freud.
"In St. John's college, you don't have a major," Koo said. "You study history, literature, science, math and music, but all straight from the text. All of the classes are discussion based, so it's a small group of people talking about what we're reading. I just believe that having a strong core liberal arts education is the basis for everything, because I'm not quite sure what I want to do yet."
Reilly encourages both Phillips and Koo to see things in a new light and approach their art from that aspect. As the artists, Phillips and Koo hope to leave their audience with a fresh outlook on something that they might have originally perceived as ordinary.
"When people look at my artwork, I want them to get a new perspective on something that's regular," Phillips said. "They might see something everyday and think nothing of it, but then if they look at my artwork, I want them to see it in a new light."
Of course, success does not come easily and without hard work. According to Phillips and Koo, artists face similar problems of splitting up their time and having the incentive to finish a piece that they are working on.
"Time management and motivation are probably the biggest obstacles," Phillips said. "Sometimes it feels like there is no point to anything, so it's like 'Why do I have to keep doing this?' or you get sick of looking at something because it's really hard to execute something well."
However, all of the struggles aside, their admiration and passion for art aspires them to keep moving forward. Their ability to create something beautiful with their own two hands is a skill that has not only influenced their futures, but has also given them something to look forward to for the rest of their lives.
"Without art, life would be kind of boring," Koo said.