Students experience career-based classes at Miller Career Center
Although students spend four or more years in high school pondering their future, confusion can cloud their minds as they fail to grasp their ideal direction, with options ranging from career goals to university options.
According to a study made by the University of La Verne, 50 to 70 percent of students change their majors at least once in their college career but most switch up to three times. The confusion often goes away as more options are explored, but by the time graduates discover their true passion, it might be too late.
As a way to combat this, the district offers students the option to take part in career-oriented and technology programs that fit with their interests.
"I did clinical rotation at Miller last year, and the experience was so outstanding that it made me want to pursue further and take pharmacy," senior Kavya Pasumarti said.
Seniors who decide to experience Miller Career and Technology Center (MCTC) have the ability to apply for many programs, such as the selective PACE program, which is centered around an internship in any desired field.
"I intern at Kelliwood Animal Clinic," senior Emily Summers said. "I shadow a veterinarian during consultations and assist the vet technicians with the animals."
Students who do not wish to be part of the PACE program have the opportunity to take other classes that relate to their future career.
"Pharmacy Tech is a class where we spend the first semester just trying to familiarize ourselves with the different types of drugs, their uses and how to prescribe them," Pasumarti said.
As the spring term approaches, they will have the opportunity to try a more interactive approach in their specialized courses.
"We will be interning at Walgreens, where we will apply knowledge we learned first semester, and doing more hands-on type of activities," Pasumarti said.
In order to complete the program, Pharmacy Technician students must pass a test at the end of their second semester that qualifies them to assist pharmacists in a work setting. The relatively low cost of the program is also a factor that attracts potential pharmacists into the program. Outside of Miller, a Pharmacy Tech program would cost around 900 dollars.
"What I really like about the program is that it's a lot cheaper than getting certified somewhere else," senior Tobi Dipeolu said. " I only payed about 300 dollars which covered all the materials and the testing fee."
Because of district policy, students are required to take core classes for half the day. Seniors who attend Miller and participate in these programs are required to take AP Literature or English IV at the alternative high school.
"I only attend AP Literature twice a week at Miller and take my other classes here at Cinco," Summers said.
Although those students are taking the same subjects as their peers, they differ in curriculum.
"It is so different because you only go for about two class periods, and everything is jammed into two hours," Summers said. "For example, once we had two timed writings and there were no breaks in between them."
Apart from attending a mandatory class needed to graduate, PACE students are required to take an additional class where they learn skills that will prepare them for any career.
"We do personal mission statements, write resumes and learn how to make an elevator speech," Summers said. "Those really help out when you want someone to hire you."
Leave a Comment
About the Contributor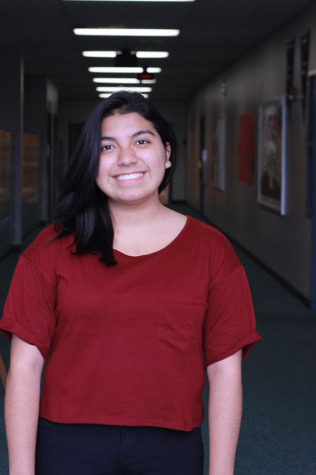 Sara Saavedra, Entertainment Editor
Sara Saavedra is finally a senior and the Entertainment Editor for the County Line. She's a big music enthusiast and often spends her days jamming to...