Student tattoos more than just body art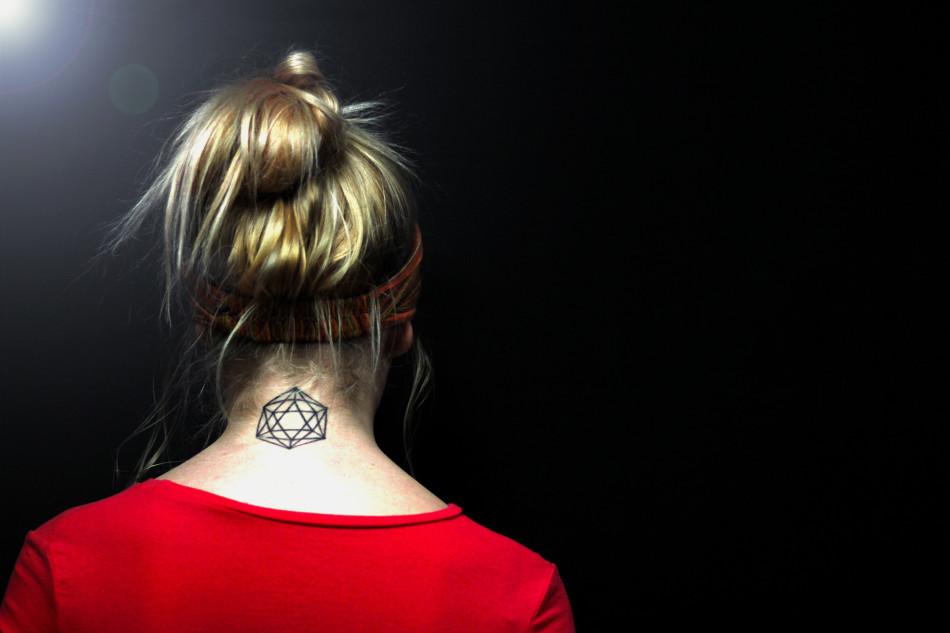 Tattoos have traditionally been associated with rebellion, yet some teenagers are redefining what it means to be inked. From symbols of faith to hope, tattoos are proving to be more than the stereotypes that have defined them for ages.
Josie Harry, Senior
Inspired by astrology and mathematics, Senior Josie Harry found a way to shine simplicity on the mechanical and scientific.
"[The tattoo is of] an icosahedron, a 20-sided figure. It's part of Metatron's Cube," Harry said. "It represents the water molecule in sacred geometry."
Being a water sign, Harry wanted to convey her zodiac sign's symbolism, which focuses on being in tune with one's emotional spectrum.
Water signs are often referred to as the element that guides the soul.
"It's also a symbol of fluidity and following your intuition, which is something I strive to do," Harry said. "I'm driven by intuition; [this tattoo] inspires me to trust it."
Harry's tattoo not only remains a symbol of comfort and ease, but also of her appreciation for the now in life.
"It wasn't something I planned," Harry said. "One day I was just like 'yeah, I'm going to get a tattoo today.'"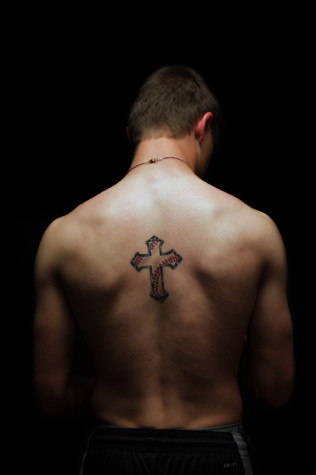 Trent Bowles, Senior
A lover of Christ and baseball, senior Trent Bowles' tattoo represents his countless blessings.
"My tattoo symbolizes my relationship with Christ and my favorite sport," Bowles said. "[It shows] what I love most in life."
Placed in the center of his back and designed with a three dimensional effect, the tattoo emulates Bowles' deep-rooted connection to his passions.
"I will always love God and my relationship with Him," Bowles said. "I will most definitely love baseball until the day I die."
Bowles is inspired by God to pursue baseball professionally.
"Without God's blessing of baseball talent, I wouldn't be able to excel in what I love and want to do for a career, "Bowles said. "I know for sure baseball will be part of my career. Only time will tell what I will be doing with it."
This tattoo has been on Bowles' mind for several years and is grateful to be able to express his blessings in a permanent way.
"I have known I wanted to get this tattoo for a long time," Bowles said. "When I was old enough, I just made the decision that I want to freely express myself and what I love most in my life."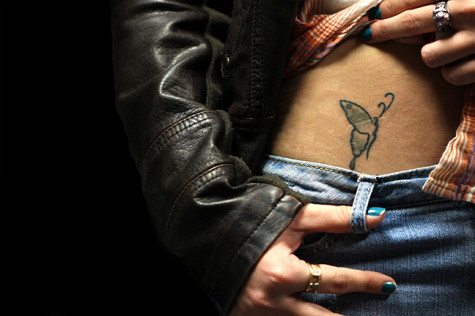 Fatima Serrate, Senior
Family and personal progression. That's what inspired Senior Fatima Serrate to get a tattoo of a butterfly on her hip.
"Butterflies represent growth," Serrate said. "They show me that I can always change into something beautiful."
Serrate and her mother share the same design on different sides of their bodies. Both chose this design for its strong symbolism of hope for developing in life while remaining close to the people who inspire them the most.
"I wanted to look at it and remind myself that bad things stay in the past," Serrate said. "Every time I look down at it, it's like I'm a new and better person."
Every part of the tattoo symbolizes someone in her family. The antennas are in the shape of a "V," as in the Roman numeral five, representing the five people in her family.
"It's my own design. I drew every part of it," Serrate said. "I've just always wanted [a tattoo] and I finally found a good excuse to do it and I knew it was something that I wouldn't regret."