Drawn to life: Senior chosen to attend, display art at festival
There are more than 200 chalk murals that span three city blocks. There is chalk dust in the air which mingles with the music and chatter of the crowds. Right in the middle of it all is Anuska, scrubbing at the pavement with her chalk as she carves out her own work of art.
But senior Anuska Martinez is no rookie. She is a member of National Art Honor Society and a volunteer for ARTreach. She's had her work displayed in the Harris County Public Library and has participated in Houston Rodeo Art, Visual Arts Scholastic Event, Culture Shapers and the Katy ISD Spring show. She's won medals and ribbons for all of them.
"Every contest and every piece of art in has enriched my art journey and skills," Martinez said. "Every single one of them has been important because it has taught me something valuable about my art and myself."
Martinez is one of two selected from the entire school district to participate after she won first place in the Via Colori contest. By being selected, she has been given the opportunity to draw her own chalk mural alongside hundreds of professional artists. The festival took place in downtown Houston from Nov. 23 and 24.
"This has been my favorite contest so far, it was a lot of fun," Martinez said. "You get to meet other artists, attend workshops and experience the Via Colori festival itself is a great part of it."
Via Colori is a free street-painting festival that raises awareness for children with hearing impairments throught The Center for Hearing and Speech. This organization provides education, speech pathology and support for the families of over 4,000 children.
After her numerous artistic successes, it is no surprise that Martinez's teachers are proud to have her as a student, especially her painting teacher Kim Robinson.
"Oh, she's a blast," Robinson said. "She's intuitive, she's smart, she is interested and she loves art. She's ready to do anything, to try anything."
Martinez was born in Valencia, Venezuela and then moved to Mexico when she was nine years old and lived there for five years. She has lived in Katy for four years now. She says that her sources of artistic influence can come from anywhere.
"Inspiration is infinitely created from within and it is revealed through your surroundings," Martinez said. "Anything from Tool's intense music, artists like Salvador Dali, Alex Grey, and Carey Thompson. Independent films like Mermaid and Enter the Void. Places like Costa Rica, people, experiences, thoughts, psychology, nature. Everything, everywhere, anything and anyone."
According to Martinez, she has been drawing since the age of five, but art never sparked her interest until her freshman year when someone praised her hand-drawn copy of a picture in a magazine. She plans on double majoring in art and psychology in the future.
"She will become whatever field of art she chooses to do," Robinson said. "She will become very successful whether it's the art industry or fine arts, doing it herself and selling her own stuff. She has a hard, good work ethic, so she is going to make it work."
Not only her teachers, but her friends have helped her along the way as well. A few of her friends and peers from National Art Honor Society accompanied her to the festival and stayed with her as she drew her picture on the concrete.
"She's passionate, is all I can really say about it," said one friend, senior Topper Bieber. "Her style's pretty abstract and colorful."
Martinez does not plan on quitting art in the near future. She plans for it to be a constant in her life.
"Art is always going to be part of my life," Martinez said. "Art is my life, without it I could not exist."
Leave a Comment
About the Contributor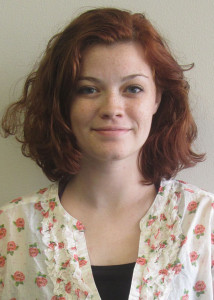 Molly Wade, Co-Editor in Chief
Molly is a senior with big artistic dreams in the animation industry. She focuses her efforts primarily on the web and draws in her spare time. Molly's...