Sophomore self-publishes first fantasy novel
Sophomore Beth Robinson loves storytelling, in virtually every form.
"I have no idea why," Robinson said.
It is this love, this passion that led her to write, edit, manage and publish her own novel, "Talismen: Birthstones."
"I wanted to get it published before I turned 15," Robinson said. "When I was nine, my parents told me the youngest published author was twelve. I decided I was going to write a book by age 10 and get it published by age 11, but that did not happen."
Robinson's fantasy novel, the first in what she hopes will be a series of five, follows a boy named Roman, who discovers a secret society and learns new things about himself through it. She began writing the novel when she was in sixth grade and finished it during seventh, but did not publish "Talismen" until her freshman year.
"My dad has experience with writing, and so do my grandparents," Robinson said. "They gave me advice on how to properly dedicate my time to writing… You get worn out."
Writing has never been difficult for Robinson, who has always focused on following her calling.
"I got interested in writing in about the third grade," Robinson said. "I've always enjoyed telling stories, and my parents eventually told me, 'Write it down on a piece of paper and show it to your teachers.'"
Robinson considers herself lucky to have a passion that can turn into a career, because she does not feel the need to stress over grades, like others she says focus on school because "school is their life."
"Around fourth grade, I knew I wanted to be a writer, but I also wanted to be a lot of things, like a racecar driver, and a firefighter or a spy," Robinson said. "But writing always seemed like the ultimate job for me, because you can technically be anything if you're a writer."
Robinson's favorite part about working on the novel and its sequel, which is still in the editing process, was writing.
"When I finished writing the last page, I felt so inexplicably happy," Robinson said. "It was the happiest moment of my life, and when it finally got published, I experienced a deeper, more subtle joy."
Leave a Comment
About the Contributor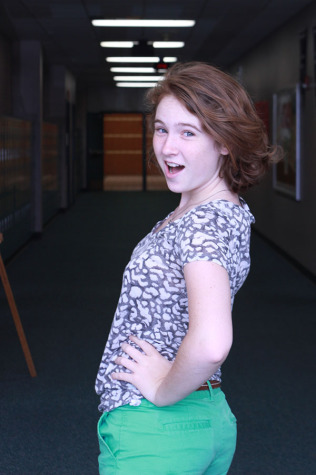 Emily Burleson, Co-Editor-in-Chief
Emily Burleson, senior, is Managing News Editor for her third year on staff.  The thrill of reporting breaking news is her favorite part of working on...