Morales embraces change
The beat of the Latino music broke the silence of the classroom; her teaching style and enthusiasm brought something new to the Spanish department.
Spanish teacher Mayelin Morales began teaching on Jan. 8. After receiving the offer to teach at Cinco Ranch at the beginning of the second semester, Morales quickly said good-bye to Louisiana and prepared for her future in Texas.
"My husband was relocated here but I'm glad that he was relocated here because I love the school," Morales said. "I've been here for only three weeks and I love it."
Leaving home was not easy for Morales, as she had to leave her two-year-old daughter behind for a short period of time. With plans to move to Texas in the summer, Morales was not expecting to make this adjustment so soon but knows she "will make it". Her weekends are spent visiting her daughter in Louisiana.
Morales has multiple years of teaching experience, as she taught English as a foreign language in Cuba for seven years, taught Spanish in New York for two years and spent four and a half years teaching Spanish in Louisiana. Morales specializes in teaching levels I and II of Spanish.
Morales quickly became accustomed to the new teaching methods as Louisiana's school system differed. Morales was used to teaching 90 minute classes, three times a day as opposed to 50 minute classes, 5 times a day.
"In Louisiana, you had the four by four courses where students take four classes once a semester and four the other semester," Morales said.  "I was teaching Spanish I from August to December and then Spanish II from January to May. I didn't think that was enough time to teach two levels in just one year, so I like the way that we do it here, where we have two complete years for each level."
Though there are more students to look after and papers to grade, Morales enjoys the school system better as she feels that teaching students for an entire year will enable a better learning experience.
According to Morales, she brings enthusiasm, knowledge and experience to the school.
"I've been teaching almost 14 years already," Morales said. "I'd rather teach Spanish than English. I taught English just as a foreign language in Cuba but I love to teach Spanish; it is my native language so I love it. I hope that I will stay here for 10 or 15 more years and won't have to move again, I hope."
Morales enjoys seeing her students grow throughout the weeks and months and watching them pass from level to level.
"[Cinco Ranch] is a great school," Morales said. "There is a lot of technology, something that I did not have a lot of in my school from Louisiana. [Working here] is a big difference, a change for the best."
About the Writer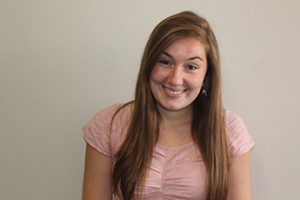 Gabrielle Deckelman, Features Editor
Senior Gabrielle Deckelman, is also known as the future Editor of Vogue. When she's not jetting off to Paris to attend an upcoming fashion show or writing...