Get on his level: Junior competes in gymnastics but will focus on academic career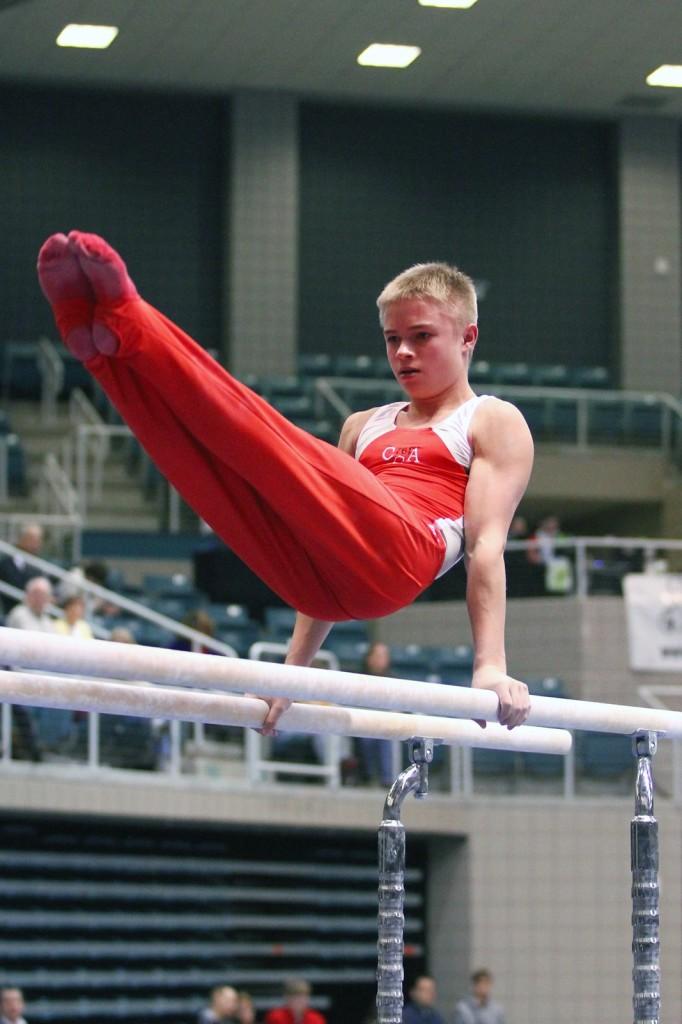 He does a tumbling pass stretching the entire length of the floor, managing to catch the attention of every spectator in the room, though he is only worried about one thing: sticking the landing.
Junior John Swartout has been doing gymnastics for longer than he can remember. Currently coached by Hideo Mizoguchi at Champion's Gymnastics. Swartout began gymnastics at age nine and has been competing for the past six years.
"I started taking gymnastics because at my preschool, there was a guy who came in once a week and it was like a traveling gym," Swartout said. "He brought in mats and I loved doing it so I begged my parents to sign me up for actual lessons."
Swartout is currently a level ten gymnast and has been classified as this for the past two years. Level ten is the highest level of gymnastics before elite, which consists of world-class gymnasts.  Swartout spends his afternoons at the gym, as he trains four and a half hours each day, six times a week. He uses study hall and extra time in between classes to complete his schoolwork.
"[Gymnastics] takes a lot more time than any other of the sports," Swartout said.  "I know lots of people practice for two hours and think it's really tough but we put in a lot more time."
Men's gymnastics consists of six different events: floor, vault, pommel horse, parallel bars, rings, and high bar.  According to Swartout, his favorite event is floor.
"[Gymnastics] takes lots of persistence," Swartout said. "You have to try and try and never give up and keep pushing."
Replacing relaxation time at home with gymnastics, Swartout chose this sport as he felt his body stature was appropriate.
"My height and body shape would allow me to excel in that sport [gymnastics] opposed to basketball and football where you have to be very big and tall," Swartout said. "I am motivated by the want to be in shape."
Swartout has competed nationally for the past four years and attributes the time he got to competing alongside Olympian Danell Levya at a competition in Florida as one of his most favorable moments.
Though Swartout has decided to continue with school rather than train for the Olympics, he hopes to continue with gymnastics at William and Mary, a college in Virginia.
"I have thought about training for the Olympics, but most of the people that train for the Olympics are homeschooled or don't go to school," Swartout said. " So if they were to get hurt or injured then they wouldn't really have another career path other than being a gymnastics coach and I guess I would rather do other things."
When Swartout is not in the gym, he is singing. Swartout is a member of varsity choir and has been singing since junior high.
"I like bringing joy to people through music," Swartout said. " I chose to join choir because I loved singing to the radio as a kid and I still do, so I thought singing would be a good fit."
Swartout has been playing piano since he was four and  plays the electric guitar .
"Its really hard to balance everything because sometimes I have to leave gymnastics early to go do choir things and sometimes to do homework," Swartout said. "No one is happy because everyone thinks that their activity is the most important thing, and it is really difficult."
While Swartout is not in the gym or singing, he spends his summers at his lake house, as a competitive water-skier. As a child, Swartout's mother had a dream of having a lake house.
"She made that happen [owning a lake house] and she taught us," Swartout said. "We go out [to the lake house] almost everyday during the summer and we compete in competitions."
Despite Swartout's busy life, he hopes to continue with gymnastics through college and become an orthodontist.
"[Gymnastics] is a way to take my mind off of school and everything else in life; it's a break," Swartout said.
About the Contributor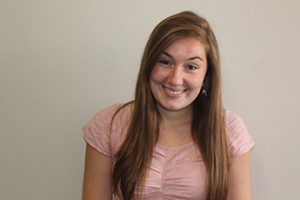 Gabrielle Deckelman, Features Editor
Senior Gabrielle Deckelman, is also known as the future Editor of Vogue. When she's not jetting off to Paris to attend an upcoming fashion show or writing...