A blessing in disguise: Sanchez overcomes appendicitis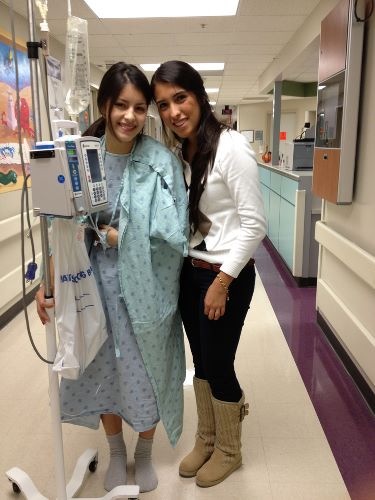 Eight days, three scars, and one ruptured appendix; the doctors said it was a miracle that she survived.
Senior Stephanie Sanchez was diagnosed with appendicitis, the inflammation of the appendix, a week before Thanksgiving break. After experiencing symptoms of a severe stomach ache, Sanchez felt she could no longer endure the pain and was sent to the hospital.
"I was dealing with the pain for 8 days when I finally decided 'hey mom take me to the clinic to see what it is because I can't take the pain anymore'," Sanchez said. "I went to a clinic then that's when they took blood and called two days later and were like you have an infection so that's when we went to the hospital."
Sanchez's Peer Assistant Leadership (PALs) teacher Niccole Kelley was aware of Sanchez conditions weeks prior to her hospital visit.
"I was worried about Stephanie for almost 2 weeks before she went to the hospital," Kelley said. "I had insisted that she go consult the school nurse. Her stomach pains were severe, and Stephanie is so quiet that I knew if she had told me she was hurting, then she seriously was."
After arriving at the hospital, Sanchez was told that they had received the results from the clinic indicating an infection.
Sanchez went through a computed tomography scan and the reason behind he pain was evident instantly; her appendix had ben ruptured for a while and she was in need of immediate surgery.
"[I had an] lapiscopi ependoctimi where they do three different incisions and with a camera," Sanchez said. " [The camera] has a little scissorand those scissors suck the appendix out. They went on the opposite side of the appendix to go for the appendix."
Kelley received a text message from Sanchez at 5:00 AM on Saturday Nov. 17, and learned of Sanchez's ruptured appendix. Kelley remained in contact with Sanchez over Thanksgiving break, as they discussed the progress of her recovery.
"I was in so much pain [after the surgery]," Sanchez said. " I couldn't do anything, I couldn't move. All the pain was still where the appendix was, not where the incisions were made but I was sore. I was hurting even more than before [the surgery]."
Sanchez remained in the hospital five days after her surgery. Though the doctors would have liked to have her stay longer, they wanted her to be home for thanksgiving.
Sanchez has to go back to the hospital for weekly checkups to see how the infection in clearing up. According to Sanchez, the rate at which she recovers is decided by how her body feels.
"Right now I am still kind of sore," Sanchez said.  "I feel the pain where my appendix used to be and its like burning sensation. Only the scar on my belly button is the one that hurts once in a while."
Sanchez PALs classes continued to show their love for Sanchez as they sent her daily positive text messages  and surprised her with a poster and a gift card after coming home from the hospital.
"Once I was back home they [my PALs class] made me a really huge poster with all these little notes saying 'get better soon' and how good of a person I am and how I smile," Sanchez said. "It was just really positive stuff that made me feel good…it was very nice of them, they gave me a gift card. It just thought it was really sweet of the pals class to make me feel good after going through what I went through, it was very nice of them, it made me love them."
Despite all the pain Sanchez has gone through these past few weeks, she cannot be more thankful that this happened to her.
"When I was at the hospital I cried every day, I was so negative," Sanchez said.
" I was negative like why, why did this have to happen to me but once I started realizing this happened because my family was so negative."
After Sanchez moved to Texas from California she felt her family started to change. Complications within Sanchez's family became more evident as time grew but days after the surgery Sanchez began to see the positive side of it all.
"After the surgery, I guess he [my dad] realized 'my daughter almost died'," Sanchez said. "He brought himself back to where he was supposed to be acting like a father, acting like a husband."
According Sanchez, she has noticed that her parents are happy now, acting like the couple she grew up knowing.
"It makes me feel really good," Sanchez said. "Even though I don't understand why this happened to me I guess out everything bad something good comes out so I'm thankful that I had this surgery, I'm thankful that I had appendicitis, for the reason being that my parents are happy."
About the Writer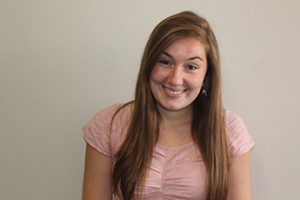 Gabrielle Deckelman, Features Editor
Senior Gabrielle Deckelman, is also known as the future Editor of Vogue. When she's not jetting off to Paris to attend an upcoming fashion show or writing...