Students take stage: New fundraiser for class of 2013
There were no auditions held, no celebrity judges, and they were not guaranteed a million dollars if they happen to walk away with the grand prize, but with prom on the line, they promised to find multiple ways to shine. Cinco's Got Talent, making its debut this year, will serve as a fundraiser for the senior class.
 With hopes of raising money for prom,and class gifts, this event will exhibit the talents of students throughout the school.
 "Cinco's Got Talent is an event jam packed… with really talented students from our very own school," Senior Class President John Liner said. "This is an opportunity for amazing performers to showcase their abilities on a big stage."
This event will be held on Friday, Oct. 12th at 7 p.m. in the preforming arts center. Tickets will be $5 in the presale and $7 at the door. Tickets will be sold in all lunches the week of the performance. Cinco's Got talent will feature performances from Carly Martin, Mariel Trimble, Scotty Lewis, Uriah Solis, Austin Crosby, Kendall Mcelhaney, John Liner, Miles Ellis, Nathan Whitcomb, Matthew Hubble, Rachel Triestman and Samrath Kaur.
"I truly believe that this event will help Cinco Ranch High School in many facets," Liner said. "This will help in building school pride, school spirit, and it's a great way to end a school week, a friday night concert with all of your friends. So not only is this good for school spirit, but it is a great social event."
Senior Austin Crosby, a member of Bravo Show Choir, will be preforming at Cinco's Got Talent as he too believes this event will be a great opportunity to raise money for the senior class as well as sharing the talent of the students involved in the event.
 "I am most excited to simply just perform in front of others, and share my love for music with them," Crosby said. "It feels awesome to know that I can do what I love, and possibly help our senior class as a result of that."
According to Liner, he hopes to encourage all grade levels to attend this event, as one day they will be seniors hoping to achieve the success of the performers at this year's event.
"I know for a fact that this school is loaded with extremely talented people," Liner said. "This is a great platform for a handful of them to showcase the tip of the iceberg here at Cinco Ranch."
About the Writer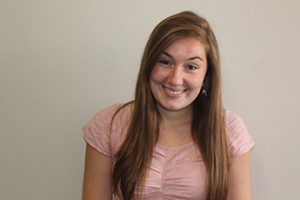 Gabrielle Deckelman, Features Editor
Senior Gabrielle Deckelman, is also known as the future Editor of Vogue. When she's not jetting off to Paris to attend an upcoming fashion show or writing...