Waters receives highest Dean's List award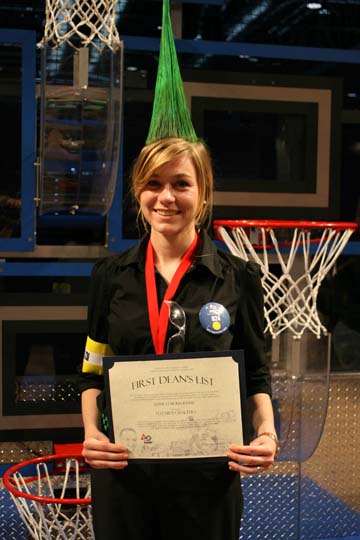 Covered in green from head to toe, she provided the talent necessary to help take her team to the top, and with not even a clue in mind, she walked away with one of the highest recognitions available to a Robotics team member.
Senior Elizabeth Waters received the For Inspiration and Recognition of Science and Technology Dean's List award, otherwise known as FIRST, for her excellence in Robotics and ability to strive as a leader for her team and community. This award was first created in 2010 and is highly regarded by multiple prestigious colleges.
"In a nutshell, this award celebrates students involved in the FIRST program that have been leaders in transforming the program and the community at large through their dedication to spreading the message of science and technology and that FIRST feels will continue to build the FIRST program even beyond their high school careers," Waters said.
Through Waters' involvement as a member on the Robotics team, she has been able to combine her passion for math and science. This has given her the opportunity to nurture her love for engineering, as she has been part of the program since her freshman year.
"I've always been interested in math and science and thought it might be an interesting way for me to exercise this interest," Waters said.  "It ended up being the perfect outlet for me to apply my schooling and still grow in my knowledge."
Waters was incredibly humbled to have been nominated by her team and floored to have received the award at all.
"The Dean's List Finalists were nominated by the adults and mentors from their FIRST team; they write an essay on the student and then that essay is judged by a panel of industry professionals to determine the winners," Waters said. "So I did nothing more to receive this award than be myself and strive to grow the robotics team to its full potential."
According to robotics sponsor Steven Fish, Waters has shouldered the majority of the burden for leading the robotics team for the last two years.
"I feel like there could not be a more deserving person for the award," Fish said. "Any teacher can tell you how impressive she is as a student, but she has been president of the club for 2 years in a row and sacrificed immensely in order to make the team what it is today."
Though Waters had taken multiple rigorous courses throughout high school, she feels that there is nothing specific, academic-wise, which prepares her for the challenges she has to withstand as a member of the robotics team.
"In fact, I think being on the robotics team has actually helped me be successful in school," Waters said. "It teaches the obvious things like engineering but also the most valuable skills of project management, communication, teamwork, patience, planning, and time management. The best part about the team, actually, is that students from all skill levels, all walks of life, can join the team an be successful, regardless of their schooling or education level."
Waters plans to study mechanical engineering at Georgia Tech next year.
"My choice of mechanical engineering as my major is almost entirely influenced by my involvement," Waters said. "Through the team, I've had hands-on experience with many facets of engineering, and I really enjoyed being able to build and design more than anything else, making mechanical engineering an attractive, perfect choice."
About the Writer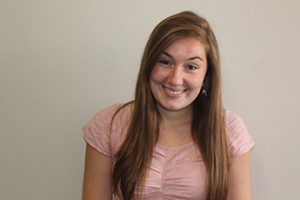 Gabrielle Deckelman, Features Editor
Senior Gabrielle Deckelman, is also known as the future Editor of Vogue. When she's not jetting off to Paris to attend an upcoming fashion show or writing...