de Souza completes marathon, gives back to non-profit
 It is Sunday, the sun is still sound asleep, but will soon be awakened by the chaos of runners high that begins to fill the streets of downtown Houston.
 The race has not yet begun but the runner's minds find a way to catch a head start, already racing with emotions, as the number twenty-six point two lingers. However, senior Pedro de Souza arrived, placed his foot on the starting line and set his watch, to give back to the place that placed a silver lining on a period of tragedy.
 Senior Pedro de Souza completed the Houston Marathon, a 26.2-mile running race on Sunday, Jan. 15. With the help of friends and family, he managed to raise over $2,200 for Bo's Place, a bereavement center, which specializes in grief support for children and adults who have experienced death in their families. De Souza and his family began attending Bo's Place in 2001 after the loss of his mother due to heart surgery complications.
 "I had never planned to do the marathon during high school, mostly because I thought it would interfere with my cross country training," de Souza said. "However, I decided to make an exception when I discovered I could raise money for Bo's Place."
 According to de Souza, Bo's Place was an area of comfort. He felt comfortable sharing his fears and true feelings knowing that others with through similar experiences surrounded him.
 "Though I stopped going to Bo's Place years ago," de Souza said. "I felt that running the marathon would be a fitting way to give back to an organization that made such a large impact on my childhood."
 Going to Bo's Place meant sharing meals with others in similar situations, talking about tragic experiences and venting frustration in activities.
 "[Bo's Place] would have pot luck dinners and then you would split into groups," de Souza said. "When you were in groups you would talk about your story and then they would give you a bunch of activities to do. Since I was eight or nine, I did lots of arts and crafts projects while talking to the kids my age who had similar experiences."
 Fragmented memories are all that remain for both Pedro and his younger brother Adriano, who agreed that the "tornado room", a place of physical activity, was the best place to let go of their inner emotions.
 "My favorite thing used to be the 'tornado room',"de Souza said. "[It] was a place where we could jump around, play games, throw things, and release our frustration."
 Evenings concluded with all of the families singing the 'Lean On Me' song.
 "I developed a sense of responsibility to myself, my family and to my moms memory that motivated me to succeed," de Souza said. " I grew as a person because I wanted my mom to be proud of me, I wanted to find my passions and achieve my goals."
 de Souza has continually been supported by his family through his journey, particularly his younger brother.
 "When I found out Pedro was going to run a marathon, I was surprised that he was willing to run such a long race, and I was happy that he was doing two of his favorite things at once; running and supporting Bo's Place," Adriano said.
 de Souza spent mornings during winter break running over 20 miles to prepare for the race.
 "I was sleep deprived from the first semester of senior year, and thought I would be able to sleep during winter break," de Souza said. "It's quite difficult to find the motivation to get up and go running by yourself when its cold outside and you are tired."
 According to de Souza, the day of the race the conditions were "perfect". Though he regrets starting out at a fast pace, he made it through the first 15 miles smiling.
"The first 15 or 16 miles were amazing with all the interesting people yelling on the sides of the roads," de Souza said. " I started deteriorating around mile 19 I think, because I wasn't used to running that long on cement. I started getting cramps and my legs sort of gave out at points, but I made it to the end."
  Though the last mile was "especially brutal", de Souza crossed the finish line in three hours, 37 minutes and six seconds.
"[The marathon was] the most insane, fun, painful, and fulfilling way to spend a Sunday morning, running endlessly on road after road," de Souza said.
Through the ups and downs of every mile, and each drop of sweat that came with it, De Souza felt that giving back was the least he could do after all Bo's Place had given him.
"It [Bo's Place] really felt like a community that truly understood me, and truly helped me recover," de Souza said. " I thought that it was important to return the favor, and contribute to helping kids through the tragic childhoods similar to my own."
About the Writer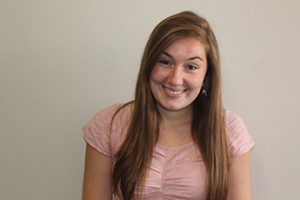 Gabrielle Deckelman, Features Editor
Senior Gabrielle Deckelman, is also known as the future Editor of Vogue. When she's not jetting off to Paris to attend an upcoming fashion show or writing...