Cowboy Commentary
Houston Rodeo Presents Lackluster Lineup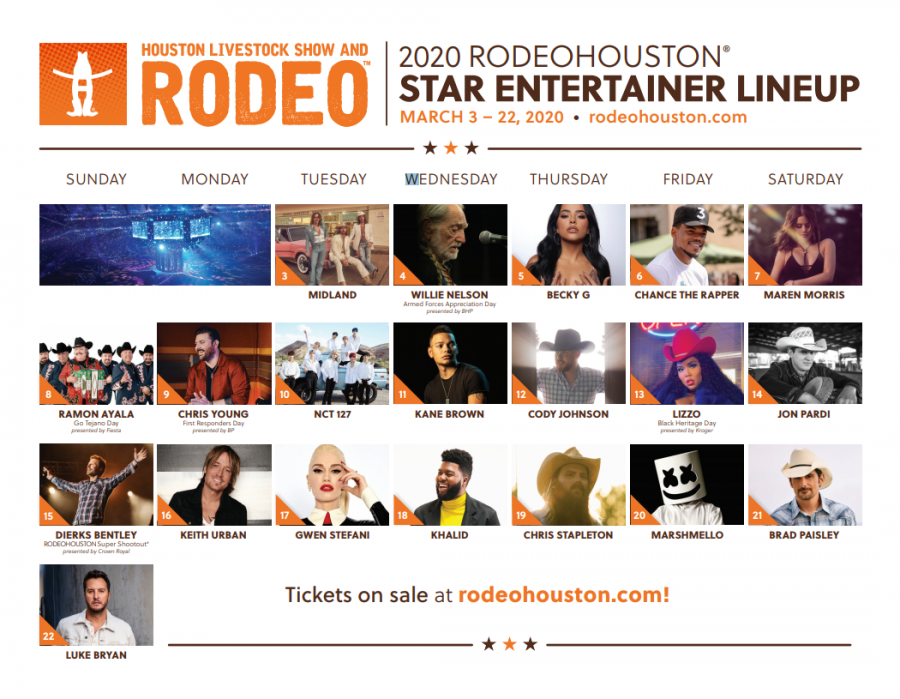 The Houston Livestock Show and Rodeo, one of Houston's biggest traditions, is a staple of Texas events that draws people of all interests together. However, for the music-lovers, this year is a complete bust.
Typically encompassing many genres, the rodeo concerts are what draw in many visitors to even attend in the first place. This year, the lineup lacks any sense of diversity and variation between genres and artists. The only genre that has any element of differentiation is, of course, country. Encompassing young, old, classic, and upcoming, the list of country artists contains new bands like Midland and Maren Morris all the way to the country legends like Willie Nelson. Of course, returners such as Brad Paisley, Chris Stapleton, and Kane Brown are going to be making appearances as well. As for country, they did it right. But as for everything else, that is far from the case.
With the rodeo not even releasing all of the artists when first announcing the calendar, the rest of the dates are a barren and repetitive string of nothing new or exciting, except for recent updates in the lineup which include Lizzo, Marshmello, and Chance The Rapper. Including people like Becky G and Gwen Stefani, most of the dates seem like fillers because they could not get anyone better. However, the most disappointing aspect of it all is that there are no rock acts to be seen. With bands like Fall Out Boy, Kings of Leon, Panic! At The Disco, and Blink-182 gracing the stage in previous years, it is truly a letdown to say the least. Typically, there is a single rock band every year that draws attention from the alternative scene. In a perfect world, bands such as Green Day and Weezer, who recently made a comeback with new music, are perfect for the place. Even classics such as Def Leppard and Journey could easily fill the stadium. Despite this, potential scheduling conflicts and rejections to play the rodeo must be taken into account, and I only hope that these inconveniences are the case as opposed to turning a blind eye to an entire genre of music.
Similarly, another thing that personally confused me upon looking at the lineup for the first time was seeing a K-Pop group added in. NCT 127 are set to play on March 10. This is not a negative thing by any means. In fact, it's nice to see that they are branching into new demographics. Considering how K-Pop's popularity has exploded in the past few years, it is destined to bring in an audience that would not normally attend otherwise. It was a smart move on the rodeo committee's part, but it comes off as a little confusing to me personally.
The only redeeming quality about the lineup that was presented is Khalid, playing a show on March 18. Khalid seems to be the most current and popular artist that will play the rodeo this year, adding at least some kind of mainstream comfort into the mix.
After attending the rodeo consecutively for many years and picking up on patterns in previous lineups, this one comes across as random and lackluster in more ways than one. It seems as if they were trying to do something different or they just did not have the resources to get better artists out to the events.
About the Writer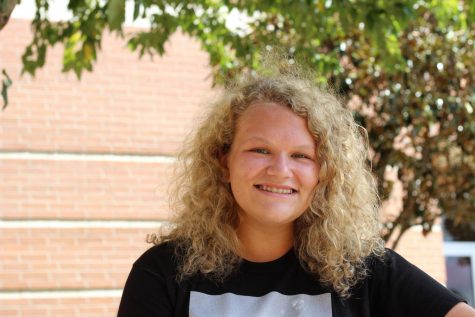 Jordyn Guzman, Co-Editor
Jordyn Guzman, (AKA Gordyn Juiceman, AKA Captain Citrus etc...) is finally a senior! And guess what? In her third year of being as a County Line staff...