"Reputation": Taylor Swift Embraces Edgy Sounds
On Nov. 10, 2017, Taylor Swift dropped "Reputation", her first full album since "1989" in 2014. With rap, autotune and thumping bass throughout the album, Swift completely breaks away from her old music and constructs a new, edgier image from scratch. Out of the 15 tracks, five songs stand out, for both good and bad reasons.
End Game (feat. Ed Sheeran & Future)
"Big reputation, big reputation
Ooh, you and me, we got big reputations
Aah, and you heard about me
Ooh, I got some big enemies"
"End Game" brings in two collaborators, pop and contemporary folk artist Ed Sheeran and hip hop artist Future. While both musicians are extremely capable, the combination falls flat on its face. Autotune is overused, the transitions between Swift's vocal styles are jarring and as the final nail in the coffin, rather than using his singing voice, Sheeran begins rapping mid-song. Considering Sheeran's naturally talented singing, having him rap instead seems like a misuse of a collaboration.
This Is Why We Can't Have Nice Things
"It was so nice being friends again
There I was giving you a second chance
But you stabbed me in the back while shaking my hand
And therein lies the issue
Friends don't try to trick you
Get you on the phone and mind-twist you"
In classic Swift fashion, "This Is Why We Can't Have Nice Things" draws inspiration from recent events in her own life, namely her feud with Kanye West when he mentioned her by name and used a derogatory term in his 2016 song, "Famous." One of the key points in the disagreement was a phone call in which Swift allegedly approved the lyrics, which she later denied. Other than the obvious call-out, "This Is Why We Can't Have Nice Things" has a decent sound and a mix of impressive and mundane lyrics, and would be an unremarkable song without the shade-throwing subtext.
Getaway Car
"X marks the spot, where we fell apart
He poisoned the well, every man for himself
I knew it from the first, old-fashioned, we were cursed
It hit you like a shotgun shot to the heart"
An excellent blend of Swift's more conventional "1989" style and her new rebellious attitude, "Getaway Car" combines quick-paced and clever lyrics with a dash of digital sound editing. Where many other songs on the album overuse autotune and repeat the same lines seemingly endlessly, Swift tells an undeniably catchy story of love and betrayal, carefully balancing good sound and good content.
New Year's Day
"Don't read the last page
But I stay when you're lost, and I'm scared
And you're turning away
I want your midnights
But I'll be cleaning up bottles with you on New Year's Day"
The final track, "New Year's Day" is a dramatic shift from the rest of the album. With a soft piano in the background and simple lyrics, it harkens back to more innocent songs from albums like 2008's "Fearless." Swift does not mention old lovers, critics or broken relationships like other songs from "Reputation," instead just laying out the simple narrative of a couple after a New Year's Eve party and emphasizing the importance of memories. Whether "New Year's Day" is a one-off album oddity or Swift attempting to reclaim some semblance of innocence, it comes as a complete surprise for those who make it through the whole album.
Look What You Made Me Do
"But I got smarter, I got harder in the nick of time
Honey, I rose up from the dead, I do it all the time
I've got a list of names and yours is in red, underlined
I check it once, then I check it twice, oh!"
Lastly, her most iconic and divisive song of the album: "Look What You Made Me Do." The edgy ballad immediately split listeners upon its release with its extreme break from Swift's previous work. Similar to her previous album's iconic song "Shake It Off," "Look What You Made Me Do" fires back at Swift's critics. Though at first she appears to be addressing a former lover, it becomes clear that she feels used by a world that quickly tires of good girls and innocent songs. With "Look What You Made Me Do," Swift severs ties with her past music, even standing atop a pile of former Taylors in the music video. Like she says in the song, the old Taylor is dead, and there is no question who killed her.

Hang on for a minute...we're trying to find some more stories you might like.
About the Writer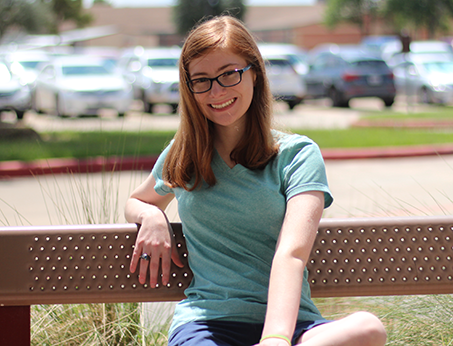 Brynne Herzfeld, Co-Editor-In-Chief
Brynne has almost run out of clever biography ideas. She has recycled a couple lines from her previous biographies.
When she's not slaving away over her history notes or staring at a blank screen for hours while trying to start her article, she's working on her fiction stories, sketching, creating digital art, keeping up with her favorite YouTubers, and adamantly continuing to use the Oxford comma outside of journalistic writing. Brynne volunteers at a wildlife center, and if you want to know what it feels like to have a baby squirrel skitter up your arm and onto your neck , just ask. She has also had a possum haul itself onto her head. She is apparently a jungle gym for critters. Brynne's the resident cartoonist, representing her grievances or humorous encounters through the characters of Kate and Zeke in her award-winning strip, "Wait, What?".
She's a Co-Editor-In-Chief now, which is a fun thing to be. (hopefully) After joining staff halfway through her freshman year, she's seen just about everything that room 1221 can gently toss at you and is eagerly looking forward to seeing what it can throw. 
Brynne sometimes explodes. It's perfectly normal.