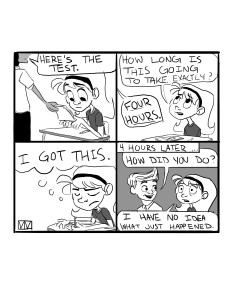 Molly Wade, Co-Web Editor

April 15, 2013
Click the image below to view it at full size!
Trevor Nichols, News Editor

April 12, 2013
In response to the steadily rising costs of Advanced Placement exams, College Board recently introduced a new organ transplant program to help students cover the costs of the tests. Students can now sell their organs in exchange for an opportunity to earn college credit. "After carefully weighing...
Trevor Nichols, staff writer

November 3, 2011
Starting this year, End-of-Course exams will be implemented to replace the Texas Assessment of Knowledge and Skills (T.A.K.S.) test for freshmen. These EOC exams are also being field-tested in higher grade levels. Supporters hope that previous objections to the TAKS test, such as the tests' inaccurate...