Elizabeth Hale, Co- Web Editor

April 15, 2013
The Cinco Ranch Comedy Sportz High School Leauge team will have a match at Cinco April 16 at 7 p.m.  Cinco will be competing against Katy and Taylor High School. Tickets cost $5 at the door. Tickets can be purchased from any Comedy Sportz member before hand.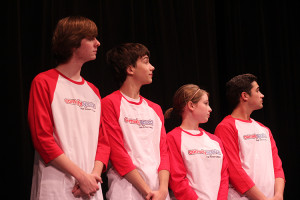 Snovia Moiz, Staff Writer

February 15, 2013
It is fast paced and funny. It requires acting without thinking. It is Comedy Sportz. "Comedy Sportz is an improvisation comedy show that is set up with a match based competition style," Theatre Tech teacher Stephen Brown said. "Acthletes, as they are called, perform in special games using...