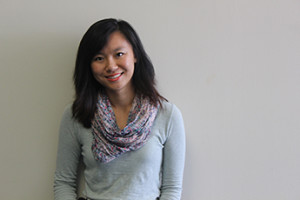 Senior Michelle Chong is a very successful, glamorous Pulitzer Prize award winning journalist. She has won every award the writing community literally has to offer. When not busy rejecting job offers from major newspapers such as
The New York Times
, Chong enjoys reading, biking, drinking copious amounts of coffee and tea, and showering (unwanted) affection to her cat.
"We knew that she would be a great investment when we bought her (she was the only infant on discount) from the grocery store. Not only is she a gold-medalist Olympic swimmer, concerto pianist and a part-time brain surgeon, she still manages to find time to work on a high school newspaper staff. We're so proud of you."
- Mom and Dad
"Michelle is like...totally the best person ever. Everything she writes is absolutely amazing. Someone should give her a million dollars. And lifetime tickets to Coldplay concerts."
-Anonymous
Michelle Chong, Co-Editor in Chief
May 06, 2013

County Line surveys seniors about future plans

(Story)

Apr 12, 2013

Senior keeps the faith, moves forward after losing mom

(Story)

Apr 12, 2013

PTSA host Earth day event

(Story)

Mar 06, 2013

National English Honor Society hosts social

(Story)

Feb 14, 2013

Varsity softball plays first tournament of the season

(Story)

Dec 13, 2012

Cougars challenge social barriers

(Story)

Nov 02, 2012

Cougar Nation: Organization to raise school spirit

(Story)

Oct 05, 2012

Teen depression creates silent epidemic

(Story)

May 15, 2012

Violinist discovers power of music, pursues music therapy

(Story)

Feb 09, 2012

Oklahoma!:Behind-the-scenes of the school production

(Story/Media)

Jan 24, 2012

Wrestling coach joins 400 club

(Story)

Dec 09, 2011

Remembering Sonia: Reyes family grieves for loss of cherished family member

(Story)

Nov 03, 2011

Administration enacts changes to up school morale

(Story)

Nov 02, 2011

The sisterhood of the traveling Szes

(Story)

Nov 02, 2011

Administration enacts changes to up school morale

(Story)

Sep 29, 2011

Cell phone policy questioned due to possibility of cheating

(Story/Media)

Sep 28, 2011

New hands added on "the Cougar Ranch"

(Story/Media)