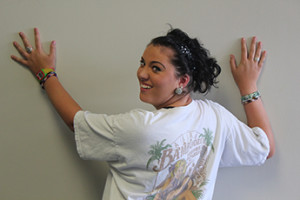 There once was a girl named Camryn, she was ratchet in more ways than one.
She loves to write stories and creep on cute boys; this is how she has fun.
She does things like planning deadlines, weddings and get together's, you know,
That is how she do and she goes by one rule: YOLO.
All though she might seem quite ghetto, the streets of Cinco is where she roams,
She likes football butts,
Yes they make her nuts
And so does the County Line doe.
Camryn Fuller, Staff Writer
Dec 18, 2012

Winter activities on a budget

(Story)

Nov 05, 2012

Opposing viewpoints part two: Why I support Romney

(Story)

Oct 05, 2012

Student's story of losing boyfriend to accidental death

(Story/Media)

May 11, 2012

Ludowig makes commitment to Air Force to live out his dream

(Story)

Apr 05, 2012

Palmer dribbles her way onto McDonalds All-American Team

(Story)

Feb 09, 2012

Veeder: From JV to varsity

(Story)

Feb 09, 2012

Golfers swing up to par

(Story)

Dec 09, 2011

Softball winds up for spring home run season

(Story)

Dec 09, 2011

Club's holiday traditions

(Story)

Sep 29, 2011

Volleyball season starts strong, team comes together

(Story)