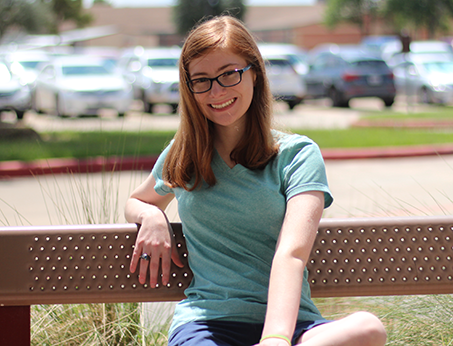 Brynne has almost run out of clever biography ideas. She has recycled a couple lines from her previous biographies.
When she's not slaving away over her history notes or staring at a blank screen for hours while trying to start her article, she's working on her fiction stories, sketching, creating digital art, keeping up with her favorite YouTubers, and adamantly continuing to use the Oxford comma outside of journalistic writing. Brynne volunteers at a wildlife center, and if you want to know what it feels like to have a baby squirrel skitter up your arm and onto your neck , just ask. She has also had a possum haul itself onto her head. She is apparently a jungle gym for critters. Brynne's the resident cartoonist, representing her grievances or humorous encounters through the characters of Kate and Zeke in her award-winning strip, "Wait, What?".
She's a Co-Editor-In-Chief now, which is a fun thing to be. (hopefully) After joining staff halfway through her freshman year, she's seen just about everything that room 1221 can gently toss at you and is eagerly looking forward to seeing what it can 
throw. 
Brynne sometimes explodes. It's perfectly normal.
Brynne Herzfeld, Co-Editor-In-Chief
May 15, 2018

FFA team places 10th in nation

(Story)

Apr 29, 2018
Apr 01, 2018
Feb 22, 2018

Five Cougar Wrestlers State-bound

(Story)

Feb 07, 2018

Press vs Prez: The Post a slam-dunk for informed viewers

(Story)

Feb 05, 2018

Varsity Girls Basketball faces Tompkins for playoffs spot

(Story)

Feb 01, 2018

UIL releases district realignment for volleyball, basketball, football

(Story)

Jan 23, 2018

District schedule changes due to bad weather days

(Story)

Dec 11, 2017

"Reputation": Taylor Swift Embraces Edgy Sounds

(Story)

Nov 05, 2017

Freshman finishes 4th at UIL State Cross Country Meet

(Media)

Oct 30, 2017

Only the Brave: a powerful and slow-burning human interest film

(Story)

Oct 16, 2017

Choir Coffee House Features Student Talents

(Story)

Oct 12, 2017

New Fieldhouse Built for Outdoor Sports

(Story)

Sep 16, 2017

Hurricane Harvey: Ordinary Heroes

(Story)

Aug 16, 2017
Mar 28, 2017

Girls Soccer in Playoffs, Boys to Play Cy-Lakes

(Story)

Feb 17, 2017

School receives new furniture donation

(Story)

Feb 13, 2017
Jan 30, 2017
Jan 15, 2017
Dec 16, 2016

Cougar Boys Golf Team Sweeps Invitational

(Story)

Dec 09, 2016
Dec 08, 2016

Fantastic Beasts and Where to Find Them: A fine addition to Harry Potter Franchise

(Story)

Nov 09, 2016

Friday Fall Fun Food Frenzy

(Story)

Oct 26, 2016

Cougar Victory at Homecoming Game

(Story)

Oct 14, 2016

African Student Association hosts book drive for charity organization

(Story)

Sep 28, 2016

Bravo Show Choir brings "A Grand Night for Singing" to the stage

(Story)

Sep 22, 2016

Cinco drops district opener

(Story)

Sep 14, 2016

Cinco Defeats Memorial 51-0

(Story)

Sep 07, 2016

Greetings, Greetings

(Story)

Sep 03, 2016

Varsity FB Starts New Season 1-1

(Story)

Apr 10, 2016

Cinco student wins TFA state

(Story)

Mar 07, 2016

Ruth B: Self-made Singer Enters Music World with "Lost Boy" EP

(Story)

Feb 22, 2016

Students place in regional Japanese speech contest

(Story)

Feb 09, 2016

Debate Team Wins at Alief Kerr, Snags Trophies at Cy-Fair

(Story)

Jan 15, 2016

Second Semester Cartoon

(Story)

Dec 25, 2015

Maddie & Tae: Good singers but unoriginal style

(Story)

Dec 02, 2015

"My All-American": More than just another sports movie

(Story)

Nov 08, 2015

Texas Renaissance Festival in full swing

(Story)

Oct 05, 2015

Windows 10: The wait is over

(Story)

Mar 20, 2015

Microsoft announces Windows 10

(Story)

Feb 03, 2015

'Hobbit' trilogy satisfies casual viewers but leaves book fans disappointed

(Story)