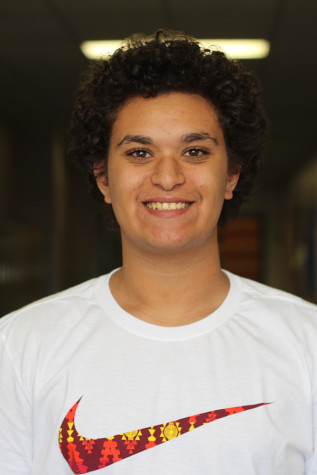 *read this in a Morgan Freeman voice*
Abdalla Khalil aka afro junior/huey/pharaoh/abdallalalalala/hotshot is a third year returning member of the County Line. He is a shared editor with Global Vine as well. When he isn't at school events shooting pictures, you can find him on his zipping fast Ninja 250 motorcycle because he doesn't tolerate traffic. When it rains, he is stuck in Felicia the minivan blasting his vulgar-ish music. It's two dollars for a ride, by the way. He likes Christmas jingles that he can sing his name to, and he loves pizza. Blessed with ADHD and insomnia, he can go five consecutive days without sleep (it's on his resumé). However, coffee miraculously makes Abdalla go to sleep (one of his dislikes).
Morgan Freeman is done narrating Abdalla's life now; he needs to get back to the science channel.
#YeForPresident2020 #CLisBetterThanYearbook #SorryMaddi
Abdalla Khalil, Design Editor
Apr 07, 2016

Cougars advance to quarter finals after victory over seven lakes

(Story)

Feb 29, 2016

Faculty feels the burn in annual chili cook-off

(Media)

Nov 15, 2015

Bellaire Cardinals upset Cinco Ranch 35-31

(Story/Media)

Oct 17, 2015

Last minute touchdown propels Cinco to victory in homecoming game

(Media)

Oct 09, 2015

Varsity FB lights up Tompkins 52-0

(Media)

Oct 03, 2015

Varsity FB stays perfect with second district win

(Media)

Oct 02, 2015

Cross Country Places strong at Brenham Invitational

(Story)

Sep 23, 2015

Bravo Show Choir performs Smokey Joe's Cafe

(Story/Media)

Sep 11, 2015

Students kick up #CPOE at Friday pep rallies

(Story)

Sep 10, 2015

Cougars thrill fans with another last second win

(Media)

Sep 01, 2015

Varsity football clinches season debut

(Story/Media)

Apr 27, 2015

Cinco Boys Soccer finishes near-perfect season

(Story/Media)

Apr 27, 2015

Girls Soccer ends season ranked 1st in Region, 18th nationally after losing State Semifinal match

(Story)

Apr 15, 2015

Girls golf advances to state

(Story)

Mar 23, 2015

Challenging the odds

(Media)

Mar 23, 2015

After 16 years, still wrestling for attention

(Story/Media)

Mar 17, 2015

My computer ate my homework

(Media)

Mar 06, 2015

Student athletes ink commitments on National Signing Day

(Story)

Feb 11, 2015

Swimming and Diving earn consecutive District championship titles

(Story/Media)

Jan 28, 2015

New computers installed over winter break

(Media)

Jan 13, 2015

Boys basketball snags victory over Seven Lakes

(Story/Media)

Dec 11, 2014

Students remember sophomore Terra Kubala at candlelight vigil

(Story/Media)

Dec 12, 2014

Serving up double the competition

(Media)

Nov 20, 2014

Photo story: Freshman takes first place in Poetry Out Loud contest

(Story/Media)

Dec 01, 2014

German Club hosts Houston Consul General at student event

(Media)

Nov 12, 2014

Victory over Strake extends undefeated district record

(Story/Media)

Oct 30, 2014

Rivals find common ground raising breast cancer awareness

(Story)

Oct 23, 2014

Cougars with a win against the Taylor Mustangs

(Story/Media)

Oct 10, 2014

Homecoming Court 2014

(Story)

Oct 03, 2014

Team tennis snatches first ever district championship

(Media)

Aug 15, 2014

Volleyball launches 2014 season

(Story)

May 22, 2014

Photo story: Powderpuff Football games

(Story)

Apr 23, 2014

Gallery: International Festival

(Story)