Varsity football gets 'flagged'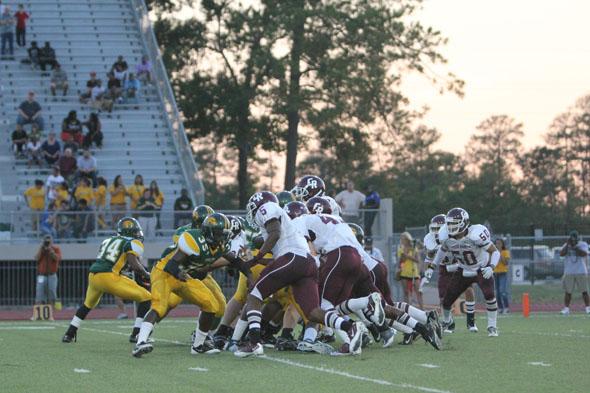 As a new football season begins, emotions rise in the state of Texas. Players, coaches, and fans prepare for three months of energy, tension, and for some, triumph.
Varsity football's first game definitely showcased the first two.
Varsity football suffered a difficult loss to Klein Forest 32-17 on Thursday, Aug. 25 at Klein Memorial Stadium.
In last year's season opener, Cinco Ranch easily overcame Klein Forest 42-21, with Klein's junior quarterback Matt Davis watching from the sidelines with an injury. Now, as a senior, Davis came ready to exact revenge.
"We knew they were going to come out hard with Matt Davis coming back," injured senior captain Anand Chaudhari said. "It is something we prepared for, but it is what it is."
The first quarter showed an even keel between the teams as Cinco Ranch settled for a punt on their first drive of the season and Klein Forest was forced to a turnover on downs.
Cinco Ranch struck first, however, with a 22-yard field goal in the second quarter from third-year varsity senior kicker Jake Farmen.
Klein made a quick rebuttal with two touchdown rushes by Davis and a 57-yard touchdown run by junior running back Kenneth Jones.
Tensions ran high in the first half, as both teams committed a total of ten personal fouls. The game got so aggressive that the head umpire even made an unusual call to give both teams a timeout. Not a timeout to take a rest and get guidance from the coaches; a timeout that required sitting on the sidelines and thinking of what each team did wrong.
"We'll stop the game until the players decide to play football," the head umpire said.
After the play stoppage, both teams committed one more personal foul each.
Klein Forest began the second half with a quick 88-yard drive, capped off with a five-yard touchdown catch by senior wide receiver Desmond Van Dyke.
Cinco Ranch junior RB Jamel James ran in a two-yard touchdown, Cinco Ranch's first of the season.
The fourth quarter ended just as the first quarter, with no scoring, and after a highly emotional and aggressive battle, Klein Forest took a knee to secure the 32-17 win.
Cinco Ranch will take on Cy-Ridge on Friday, Sept. 2, at Rhodes Stadium. Kickoff for the game, which is also Senior Parent Night, is set for 7 p.m.