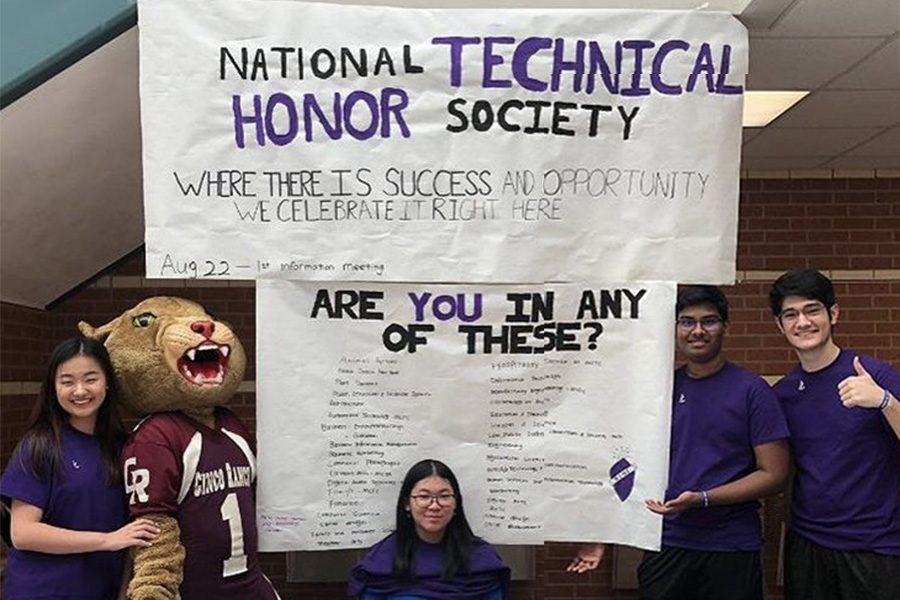 The new Cinco Ranch chapter of the National Technical Honor Society (NTHS) held its first meeting of the year last Thursday, August 22. This meeting marks the official Cinco opening of the nation-wide program focused on community service and career exploration.
"I'd encourage everyone to just try it out," NTHS President Shaz Kumar said. "We were really happy with the turn-out for the first meeting. More people than I expected, but it was still a good number. We have a really good vibe here and kids can really improve. They can actually talk to real people. We have guest speakers, they talk about their careers so you can have chances to think about your own. People will have a chance to figure out what they actually want to do when they grow up."
Students are required to complete ten hours of community service, maintain a 3.5 or higher GPA, and be currently enrolled in a Career/Technical Education (CTE) class to qualify for membership. Several NTHS meetings will feature guest speakers teaching about their own careers in fields from health care to film directing.
"I heard about NTHS over the announcements," freshman Peyton Drake said. "I'm taking Principles of Agriculture as my CTE class, but I'm not sure what I really want to do career-wise yet. I know it will help with my college resume and I want to learn a lot about a lot of different stuff. I'm really looking forward to the whole guest speaker thing. I'll probably get my hours at the animal shelter near-by and if all goes well this year, I'll definitely do NTHS all four years."
Digital Arts teacher, Ms. Hailey Ann Booth sponsors NTHS, along with co- sponsors Ms. Phuong Ngyuen and Mr. Rafael Villarreal. Booth began the program last year, electing officers last January and inducting new members in a ceremony last April.
"We're working really hard and I think everyone will have a good time here," Booth said. "And I know Miller [Career Center] has their own NTHS group, but we're actually $40 cheaper. Not to mention it's a chance to learn something about your future."
The group is planning on meeting once every six weeks for the rest of the school year. NTHS officers have scheduled the next social on August 30th, after school in the LGI.
"I think it's a cool way to learn and network with new people," NTHS Secretary Vivian Pan said. "That's probably what I'm most excited about actually. We're preparing you for your future career and we're going to do it well."