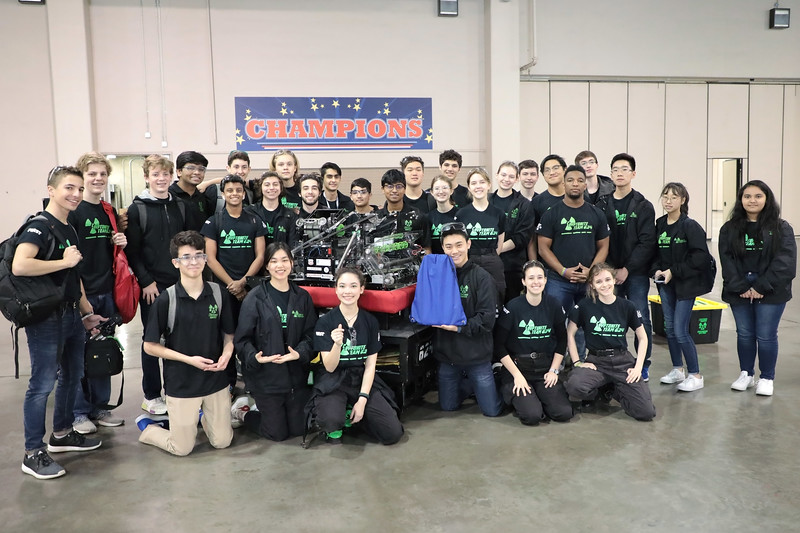 Courtesy of CRyptonite Robotics
"There was just a feeling of shock," senior Tejas George, Vice President of Build for the CRyptonite Robotics team, said. "I was thinking to myself, 'That doesn't happen. It's happening in New York, but not here, not to me.' But every FIRST event had been canceled, world championships included. Postponed indefinitely."
The CRyptonite Robotics team arrived in Oklahoma City for their second competition of the 2020 FIRST Robotics Competition (FRC) in high spirits. Their robot had been modified following their first competition two weeks prior, improving upon aspects that had shown signs of wear and tear or had troubles working entirely during gameplay. They had set up their robot and pit, with essential supplies to maintain and fix their robot, the night before when unloading their bus. Other events had been canceled due to the COVID-19 outbreak, such as all events in the Pacific Northwest region, but there had been no indication yet of the Oklahoma City Regional being canceled.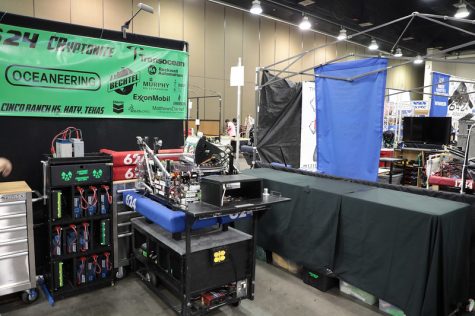 "We were waiting in the stands for the driver's meeting to start, when one of our team members said to us, 'They just canceled the Orlando regional during the driver's meeting,' and we all started to get pretty nervous," George said. "A few minutes later someone new walked onto the field with the regional coordinator and explained he was a representative from FIRST Headquarters who represented FIRST in the region. At that point all of our team in the stands knew what was coming, but a lot of the teams hadn't heard about Orlando yet, everyone seemed confused that the head referee wasn't there but instead this random FIRST guy. He then said 'We'd like to thank you all for coming out here; unfortunately FIRST HQ has just sent out that all week three events are to be postponed indefinitely.' After that, everyone was silent; that's the quietest I've ever heard an FRC arena."
Afterwards, the team packed up their robot and other supplies and returned to Katy that night, three days early. Later that day, FIRST announced that all events for the rest of the season were postponed indefinitely. Since then, CRyptonite has also canceled their end-of-year-banquet.
"When we went back to our pit to start packing up the robot it still hadn't fully settled in, we were almost laughing in disbelief," George said. "As we were packing up it started to process, all the countless hours of this year, every year with me getting more involved and this was supposed to be the pinnacle of that, but now all the seniors were alumni. When such a large part of everything you do, something that's constantly pushing and is saying, 'Here's something you need to work towards, get on it and get it done,' is suddenly gone, you just don't really know what to do."
CRyptonite has begun moving forward, continuing some aspects of robotics activities during the quarantine. While they cannot meet in person, they have set up a virtual conference for other robotics students and mentors to watch on April 11 and 18, featuring different panels covering robot design, project management, and women in STEM with speakers from other top Texas robotics teams and industry professionals, such as Menzer Pehlivan, an engineer who is the focus of the IMAX film Dream Big: Engineering Our World.
"Now that I had all this free time, my way of moving forward was setting up outreach projects and meetings for the team because I didn't want to waste all this time at home," junior Kyna McGill said. "That's where the virtual conference came from. As cheesy as it sounds, our team is a family, and I was missing that sense of family and community, and I thought people from other teams were probably feeling the same way."