Rock n' Roll Call
Mazzu makes music magical in the classroom
If you ever find yourself in the senior halls and stumble upon the sound of an electric guitar being plugged in, tuned up, and played; you're in the presence of something very special. You have just entered Mr. Mark Mazzu's musical hub.
Texas City native, Mr. Mark, has gone by many titles. At one point the CRHS speech and debate coach, he currently teaches sports & entertainment marketing, teen leadership and professional communications. He has been teaching at Cinco for five years, and is now viewed as an icon to his students. Many of his pupils describe him as a "compassionate" and "articulate" teacher, but almost everyone associates him as a musical fanatic.
"I love music, plain and simple," Mazzu said.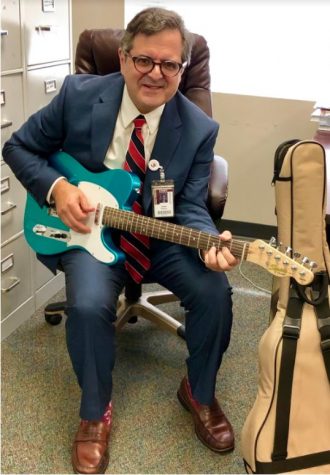 A typical class day for many students will include an average, monotone lecture… but at the end of the day some just aren't inspired. In Mr. Mark's room however; students will get to experience a full range of music from Abbey Road (The Beatles), to Frank Sinatra. He achieves this by incorporating some form of music into all of his lesson plans in an attempt to create a sense of unity and participation from all.
Since 2015, Mr. Mark has been bringing his guitars to school, and since 2018, his 'Squier Telecaster' has been his daily choice. That gesture alone would change how he taught for the rest of his career. Besides him jamming out, his main purpose is to influence his students in a way that no other teacher has done. To achieve that was simple. He wanted his students to pick up his guitar and play it.
"I found that when I brought a guitar to school the first time, kids started playing it and it totally changed the atmosphere of the classroom," Mazzu said. "Shy kids would come forward and be expressive. I later learned that guitar playing also improved brain function."
He added that there was even an appreciation for older musical groups in the classroom because of this. Billboard names such as The Beatles, The Rolling Stones, and Cream would now pop up in conversation of his students. His impact on his students is relevant now more than ever, and is catching like wildfire. Mazzu has even inspired a select few of his students to pick up an instrument in their own time. Like any other musician, Mazzu's love came when he was a high school student himself.
"My musical influences were three-fold," Mazzu said. "I was influenced by singer/songwriters such as James Taylor, and Bob Dylan. My first musical memory were the Beatles, with a song called 'I Want To Hold Your Hand. I was also influenced by gospel music out of the church, very heavily."
Mr. Mark finds himself again and again preaching to his students about his life before becoming a teacher, and as many could imagine, recording songs in the studio is very different from grading papers.
"I've never stopped my musical passion. Even when I began teaching; that fire that I had for music was here to stay," Mazzu said.