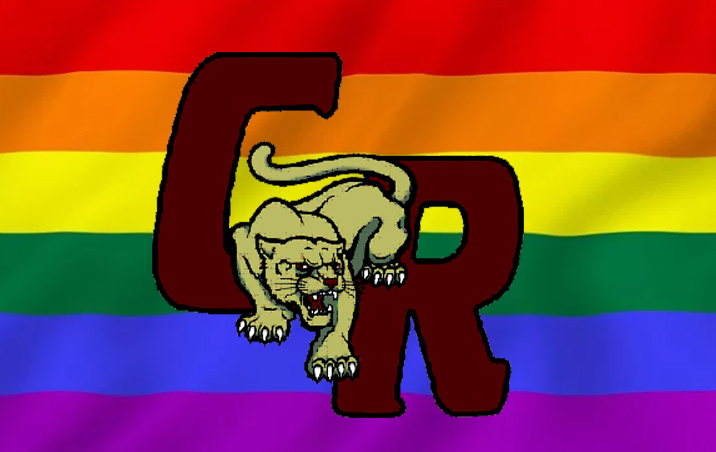 "To promote education and tolerance in a safe space."
Junior Mars Murray's reason for leading Cinco Ranch's Gay-Straight Alliance (GSA) club is clear. As newly-elected President of the organization, Murray is ready to start his 2019-20 term and spread the message of acceptance alongside his two Vice Presidents and brand new sponsor, English I teacher, Tracie Hillyard.
Since GSA's beginning nearly seven years ago, it's welcomed the LGBTQ+ community and their allies to weekly Friday meetings. Recognized by many students as a hallmark of tolerance and acceptance, the GSA has become a small, yet tight knit safe space for students to show each other support away from the open halls of the school.
"There's never been any ignorant or discriminatory statements made towards us," Murray said. "We're just really fortunate to have this little bubble where we're able to express ourselves. While there are probably a lot of opinions just because we are in a southern school, I think we keep enough in the shadows that people who want to join can join, but we're not loud enough that people yell back."
Meeting agendas usually consist of introductions, social time, and games. Then, it's up to the GSA officers to present an educational slideshow focused on LGBTQ+ topics, from queer icons and celebrities to lessons on how to safely bind for some transgender students.
"I once was at a meeting and started telling the story of how I came out to my parents right after homecoming," GSA member Kate Seckar said. "It was right after the dance and I just shouted out 'I'm a lesbian!' before running into my room. But when I was telling this story at the club, someone yelled from the back 'I thought you were American!'. People were rolling and laughing so hard. It's beyond great to have a place where I can feel comfortable and laugh while sharing those kinds of stories."
Club meetings are just one of the many GSA resources available to members. Including movie nights, a library of books featuring LGBTQ+ characters, and accommodation for students whose parents might not support their membership, Murray strives to carry the GSA sense of community outside of the classroom.
"We have a cover acronym for kids that aren't out or don't want their parents to know they're going to a club like that," Murray said. "It gives them a cover story, like we talked about 'this and this and this' today. Our remind is also called that as well so it's not as suspicious. Only 2 or 3 people really use it. It's good that it's not super needed, but better safe than sorry."
While providing a safe space for students is their top priority, GSA officers aren't afraid to advocate for their community at Cinco. Regularly meeting with school officials has become a welcome part of their job description.
"We talked to Mr. Cross at one point about trans bathroom issues," Murray said. "We wanted to know if there was any way to get that fixed, but there's not really much you can do. There's not a lot of gender neutrality and a lot of trans people don't feel safe going in their prefered restroom because of discrimination. It was a really good meeting, Cross was super accepting and even said he'd talk to another high school that had found a solution. Mr. Cross is a cool guy."
Though GSA is relatively small in comparison to other clubs at Cinco, the meaning and purpose behind it are extraordinarily larger in scale. The GSA not only provides LGBTQ+ students with a safe space, but also raises awareness and promotes normalization of LGBTQ+ topics throughout the student body.
"We really are just normal kids wanting to learn more about ourselves and play fun games," Seckar said. "I mean, what's so bad about Heads Up Seven Up?"